Evernote has created a tool for people who are easily distracted. Clearly is a Google Chrome extension that strips out navigation, links and advertisement from any Web page and presents you with a cleaner, less distracting online reading experience.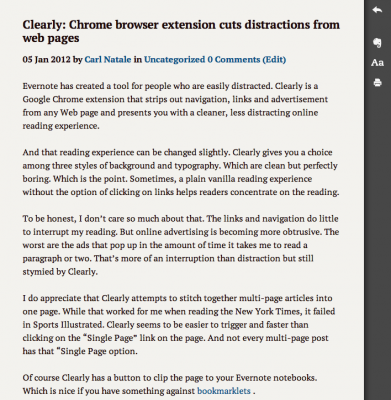 The Clearly reading experience is customizable: you can choose between three styles of background and typography – which are clean but perfectly boring, but that is the point. Sometimes, a plain vanilla reading experience without the option of clicking on links helps readers concentrate on the reading.
To be honest, I don't care so much about that. The links and navigation do little to interrupt my reading. But online advertising is becoming more obtrusive. The worst are the ads are the type  that pop up in the amount of time it takes me to read a paragraph or two. That's more of an interruption than distraction but still stymied by Clearly.
I appreciate that Clearly attempts to stitch together multi-page articles into one page. While that worked for me when reading the New York Times, it failed in Sports Illustrated. Clearly seems to be easier to trigger and faster than clicking on the "Single Page" link on the page. And not every multi-page post has that "Single Page" option.
Of course Clearly has a button to clip the page to your Evernote notebooks. Which is nice if you have something against bookmarklets. But the winning feature for me is that it creates a print-friendly version of the meanest of web pages.
Note that Clearly only works in Chrome although the developers are promising that support for other browsers is coming.
This is a limited extension that strips distractions from a web page and leaves just a clean presentation of text. Even if that is not important to you, Clearly is worth having so you can have fast access to single-page and printer-friendly versions.
Download Clearly [Google Chrome Web Store]