It seems that everyone is planning an Operation Overthrow against popular file synching service Dropbox. Earlier this week, it was Insync. This time, the newest member to join the movement is BitTorrent, Inc. with their new desktop app simply dubbed Share. The service allows you to transfer any type of files to anyone with no size limit to weigh you down.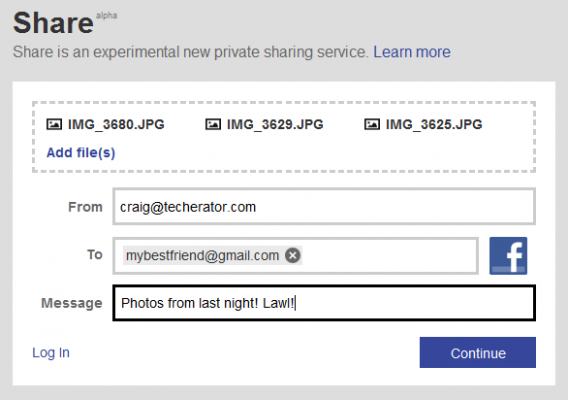 The process is easy and straightforward. After installing and firing up the application, add files by dragging-and-dropping or by browsing for them. Then, enter in your email address, as well as the recipient's email address (you can have more than one recipient). You can also connect to Facebook and add your friends that way.
After you send the file, the recipient will receive an email letting them know about the file(s) and how to get the Share app (if they don't already have it).
Your account will automatically be created after you send your first file share and the next window is a list of all the files that you're sharing and information on who its shared with, etc. Users don't have to be online at the same time to send and receive files, since they're cached in the cloud and once the files have sufficiently been shared by peers, they're taken off the cloud to make room for future files transfers.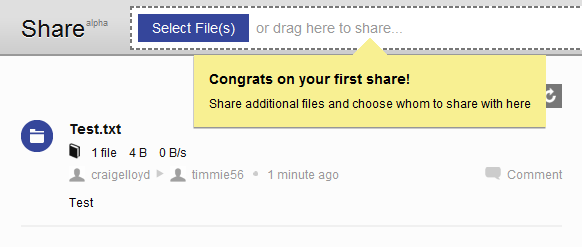 Share is clearly still in its early alpha stages, but it will eventually be integrated into the popular BitTorrent client uTorrent, adding even more features to the lightweight program. Currently, Share is only available on Windows, but will be available on Macs via uTorrent in the future.
A free, unlimited file-sharing service this easy simply cannot go ignored. It's a fantastic alternative to anyone who doesn't want to get their hands dirty with true BitTorrent and makes sharing larger files a breeze.