If you're like me and have recently switched from an Android phone running Froyo (Android 2.2) or Gingerbread (Android 2.3) to the brand-new Ice Cream Sandwich (Android 4.0) on the Samsung Galaxy Nexus, you may have been surprised to find that apps installed from the Android Market automatically have shortcuts placed on the home screen. I'm sure this feature is convenient for most people, but I prefer to include only essential apps on my home screen and relegate the rest to my app drawer.
Thinking the automatic shortcut placement was controlled by the Galaxy Nexus/Ice Cream Sandwich home screen, I searched in vain to find a way to disable the feature. As it turns out, it's actually a setting in the Android Market and is quite easy to disable.
How to disable automatic home screen app shortcuts
Step 1. Open the Android Market.
Step 2. Press the new Menu button in the top right. (Yes, it's three vertical dots and is no longer included in the standard Android buttons bar – I'll be covering topic in the near future I'm sure.) Select Settings.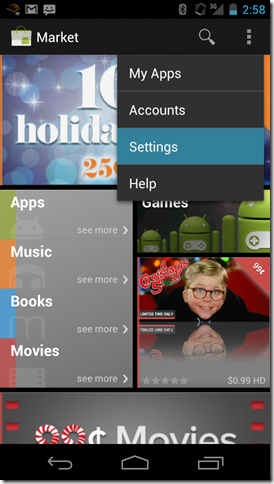 Step 3. Uncheck Auto-add shortcuts.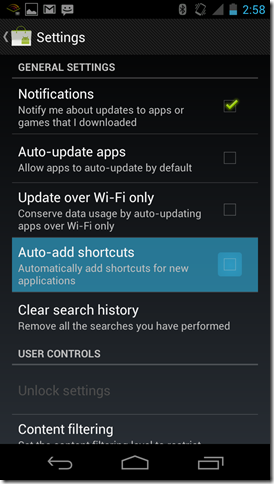 That's it! Your home screen will now be untouched by new applications.
Have any tips about Ice Cream Sandwich or Galaxy Nexus? Share it with us in the comments below.