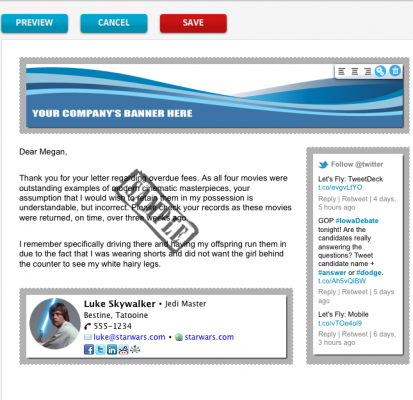 There are two types of email you can send: Text or HTML. Text is just the words. No colors. No photos. No layouts. HTML is basically a web page sent through email servers.
For most of us, it really doesn't matter when we send email. We just type, and the resulting HTML-formatted email is a mash-up of our words and whatever template comes with the email client.
Now BrandMyMail will mash-up your Gmail account with your social media accounts. It also lets you create a nice template using drag-and-drop elements. The available design elements are basic, but the trade-off is ease of use. The selection of social networks you can inject into your emails is impressive – Twitter, Facebook, Google+, Picasa, Flickr, YouTube, Quora, Blogger, WordPress, RSS, etc.
Every email you send can have a banner, stylish signature with social media links and the latest tweets you sent. It can also include Facebook updates, photos or anything you shared on your favorite social networks.
It is important to evaluate the content you're including in your emails though, because you want to make sure your social network activity is appropriate for anyone who receives your email. This can be a valuable tool for anyone who is disciplined in maintaining a professional, online reputation, especially if you curate a lot of content.
I also think the design makes for a great email newsletter – especially if you link brand accounts to the email. The samples look better than what I could design in MailChimp. I would love to run my BrandMyMail-designed email through MailChimp or Constant Contact.
The implementation is a little more complicated than the design, but most of us can make it happen without an IT consultant. It also works from iOS devices and Android phones.
If you're a solopreneur who wants professional looking emails that expose people to your carefully curated social media feeds, try BrandMyMail.