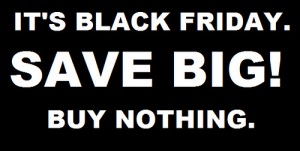 Black Friday is now as much a part of the Thanksgiving celebrations as a big turkey and a huge family get-together. Some people even forgo the latter to ensure their place at the front of the queue for the former.
Big-ticket consumer tech has always been the focus of Black Friday and Cyber Monday, and this year was no different. Prices may have been cut substantially – which is the whole point of this weekend intended to kick start the holiday buying season – but they're still relatively high. Especially when these are products most people want rather than need.
This suggests to me that the 99%, that downtrodden section of society camping out to protest the greed of the 1%, is still spending. Even in these tough economic times of austerity measures and massive debts.
Black Friday
Techerator produced its own Black Friday Shopping Guide which included products as diverse as cameras, televisions, games consoles, laptops, tablets, and smartphones. All available from a range of retailers at knockdown prices, of course. But despite the obvious price cuts, we're still talking hundreds of dollars per item here. All of which are being spent on products people desire yet don't actually need. We'd all love a 46-inch LED HDTV, but how many of us has the $799 in spare cash to buy one on a whim?
Cyber Monday
Cyber Monday is never quite as manic as Black Friday. Mostly because it involved people sitting about in their pajamas ordering stuff from online retails such as Amazon. But the virtual crowds are just as big, if not bigger, than the real crowds which make the news every Black Friday. As a whole, the number of people shopping over the Black Friday/Cyber Monday weekend is estimated to have topped 152 million in the U.S., up 10 percent on last year.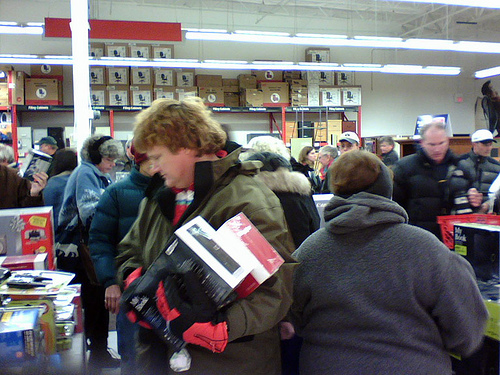 The 99%
I'm not knocking the 99% movement. Hell, I'm one of the 99%. In fact, I'm probably in the bottom 20 percent of the population in terms of income. Suffice to say writing for the Web isn't the most lucrative career choice, unless your name is Paul Carr (formerly of TechCrunch) or Ben Parr (formerly of Mashable).
Am I spending a fortune on Christmas this year? Am I buying televisions for various members of my family? Am I buying gadgets left, right, and center for myself? No, no, and thrice no. Because I cannot afford to. Unlike all those who pushed, pulled, scratched, and bit their way through the crowds on Black Friday, or added a few zeros to their credit card bills on Cyber Monday.
The world may be doomed in terms of cash flow, but people will always find money to spend on unnecessary gadgets and gizmos.
Image Credit: Mike Licht
Image Credit: Craig Dugas