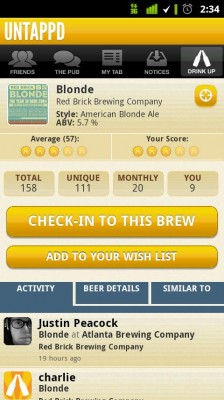 If you're into craft beer, chances are good that you spend a good deal of time bragging to your friends about different beers you've tried or have on tap. Take, for instance, my text message conversation with my good friend last weekend.
Friend: "At a place with Three Philosophers on tap."
Me: "How about you go to Hell?"
As you might imagine, people with access to certain beers have some serious bragging rights, so it's only natural that beer geeks want to keep track of their findings and reviews of particularly hard-to-find brews.
Untappd is the perfect app for any beer enthusiast. It reminds me a lot of Foursquare, with the ability to "check-in" to certain beers as you are enjoying them. You can easily view reviews for the beer and post/archive your own, as well as ratings. It's surprisingly common in the craft beer world to discuss a wide range of beers you've tasted, and dang it, reviews are hard to remember. With Untappd, you can store details about each beer (IBU, SRM, malt bill, etc.) as well as a narrative review which can easily be recalled for reference later. Even better, Untappd will offer recommendations for similar beers that you can try.
Probably my favorite feature of Untappd is the ability to see where a particular beer is on tap. In the mood for the Saison your friend suggested you try last week? No problem, just do a pub search and you'll be soaking in it faster than you can say "It's OK, I didn't want a good beer anyway."
Bragging to your fellow beer geeks has never been easier, and I give Untappd two very sober thumbs up. Improve your beer geek credibility and keep track of your brewhalla history with this very well-made (and free) app — and never forget, life is too short for light beer. Prost!