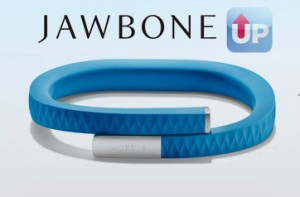 Remember Jawbone? The company that made such nice Bluetooth headsets they were almost cool enough to wear in public? Well, Jawbone is at it again, but get ready for something completely different. They've taken their tiny gadget know-how and applied it to a problem we've all encountered: improving our health and fitness.
Jawbone UP is a wristband that you wear to track your physical activity, meals, and sleep habits throughout the day. It works in tandem with the UP app for your iPhone, which takes information gathered from the wristband and crunches it into visual statistics to track your progress. Jawbone believes that by tracking your health decisions throughout the day (everyday), you'll be more apt to fulfill your health and fitness goals. Fair enough, but are the features worth using?
With such a large amount of data flowing into the app, UP is able to provide some enticing functionality to keep you on the wagon. For starters, the Activity monitor shows day-to-day and aggregate statistics for your daily movement. It tracks your total steps and distance traveled, estimates calorie burn, and suggests activity goals in line with your weight loss objectives.
UP takes a simple but clever approach to tracking your meals. Rather than counting calories, UP encourages you to snap photos of every meal and, a few hours later, asks you how you feel. You'll quickly learn which foods leave you energized and which leave you wishing you'd had a salad instead.
Sleep is probably the most undervalued health-related activity in our lives. UP puts a premium on your sleep by monitoring your hours of rest and even tracking how much you fidget in bed. Is it time for a new mattress? UP will help you attain your perfect sleep schedule, and the wristband will silently wake you at your optimal time (vibrations, ooooo…).
Do you need some competition to keep you motivated? UP includes a solid array of Challenges for you to join, either against yourself or the world. Do you have a group of friends that exercise together? Invite them to a private Challenge and see who can be the first to walk 100,000 steps or erase their slept debt. The idea is to keep your activity varied and your mind engaged to maximize your long-term health.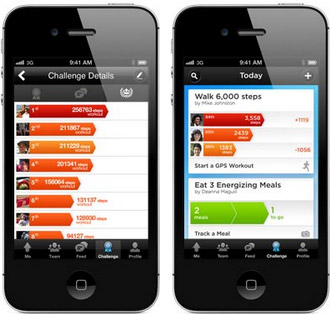 Jawbone has created yet another compelling and attractive piece of technology that may be just what the doctor ordered. UP costs $99.00 (which includes the wristband + app), which isn't bad when you consider how much you paid for that heart monitor watch last January. Currently, the wristband plugs into the headphone jack of the iPhone for syncing, but knowing Jawbone, it's only a matter of time before wireless functionality (Bluetooth or radio) is added.
As Christmas approaches, the Jawbone may be the gift that keeps on giving. Solid hardware and excellent app design will keep you coming back, and hopefully lead you to a sustained healthier lifestyle.
Image credits: Jawbone.com