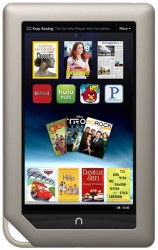 Today during their press event, mega-bookstore chain Barnes & Noble announced the successor to their Nook Color. It's called the Nook Tablet and it's set to take on Amazon's Kindle Fire.
Just like any successor device, the Nook Tablet picks up where the Nook Color left off. Underneath the 7-inch LG 1024×600 IPS display is a 1GHz dual-core TI OMAP4 processor and 1GB of RAM, as well as 16GB of built-in memory with a microSD slot for more space if desired. The whole package weighs less than a pound and can last for 11.5 hours on battery.
The Nook Tablet runs Android 2.3 Gingerbread, but just like the Kindle Fire, it uses a custom UI. This means that it's not an all-purpose tablet that can run any app from the Android Market, but rather a tablet that's geared towards specific functions such as books, magazines, email, web browsing, video, etc. However, B&N has partnered with a handful developers to create specialized apps and games for the device.
The company says that millions of books and over 250 magazines will be available at launch through Nook Books and Nook Newsstand services, as well as a large selection of Marvel comics and graphic novels. The device will also have Netflix, Hulu and Pandora integration.
You'll also get free cloud storage service with the Nook Tablet, which will store your purchases and downloads. This way, you'll be able to delete and re-download content whenever you want, if you have a WiFi connection.
Barnes and Noble claims that their new tablet has a better screen, more RAM and storage, and is lighter than the Kindle Fire. However, all that comes with a higher price. The Nook Tablet will cost $249, which is $50 more than the Kindle Fire.
Pre-orders are starting now, with the device actually shipping out to customers on November 17th. The Nook Color has been discounted to $199.