Tabbed browsing is nothing new, but I've always felt that something wasn't quite right with how tabs were displayed. After an enthusiastic web browsing session, I'd often end up with a horizontal disaster of disorganized tabs. With computer displays getting wider and not taller, why were browsers cramming tabs into my precious vertical space?

When I discovered an add-on for Firefox called Tree Style Tab in 2009, and I was so excited that I wrote an article about it that same day to spread the good news: Finally, tabs done right! Moving tabs to the side of the browser window made them easier to manage (and Tree Style Tab automatically organizes them into hierarchical groups), plus it made better use of my 1,920 horizontal pixels.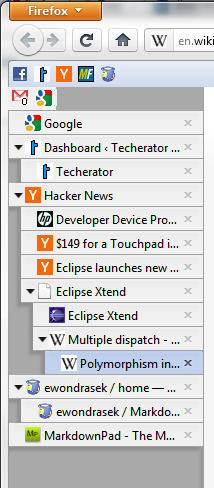 Like many people, Google Chrome had caught my eye as a blazing fast way to browse the internet. It took some time, but the development team behind Chrome eventually added a basic version of vertical tabs to their Beta channel. Vertical tabs weren't "officially" a feature – in fact, I'm sure many of you didn't know they even existed in Chrome – but the guide I wrote to enabling vertical tabs in Google Chrome is one of the all-time most popular articles on Techerator. By combining Chrome's rudimentary vertical tabs with the New Tabs At End extension, I was able to enjoy Chrome almost as much as Firefox.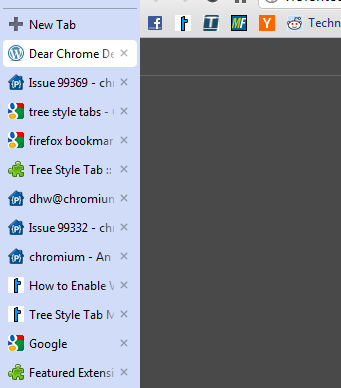 The Infinite Version giveth and the Infinite Version taketh away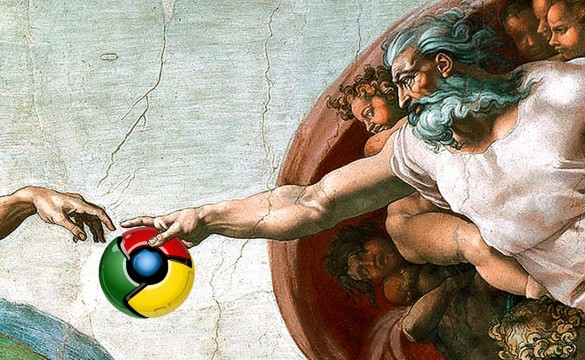 Google Chrome has released 15 major versions since it was first released in 2008. To keep up with that extraordinary rate of deployment, the Chrome team built an industry-changing automatic updater into the browser to make sure users always had the newest version without even thinking about it.
One of my favorite articles about Chrome's update system is Jeff Atwood's "The Infinite Version," where he states:
Chrome is so fluid that it has transcended software versioning altogether.
Like Pavlov's dogs, I've been conditioned to associate software updates with new features and better performance. But there's a reverse side to that coin: features can be taken away, too. With the release of Chrome Beta 16, vertical tabs have been officially removed from the browser. The Beta channel is a direct preview of what's coming in future stable versions, so within a few weeks vertical tabs will no longer exist in Chrome.
The removal of vertical tabs came as a surprise when my browser automatically updated, but it wasn't entirely unexpected. As with most Google "experiments", there's always a clear disclaimer that features can break or disappear at any time. That being said, vertical tabs had been around in Chrome long enough that it was a shock when they magically disappeared, especially since the auto-updater doesn't notify you when things have changed.

Chrome is based on the open-source Chromium project, and one of the benefits of open-source projects is that they're fairly transparent. Dozens of bug reports were filed after vertical tabs were removed, to which a Chromium developer tersely replied:
Sidetabs were an experiment that didn't pan out. They're in a half-working state and should be removed, says Glen.

We'll try to come up with other approaches for this use case.
This caused a flurry of other bug reports to be filed (warning, this one has quite a bit of NSFW language). It's clear that users aren't happy about the change, especially since there currently is no clear plan to add a better version of vertical tabs back to the browser.
Now what?
Unfortunately, unless the developers on the Chrome and Chromium teams relent, you probably won't be seeing the return of vertical tabs in the near future. You do have a few options, though.
Let the Chromium team know how you feel. Add a post to the missing vertical tabs bug report and Star the issue so they know you're interested.
Use Firefox with Tree Style Tab. Firefox has taken some hits because of Chrome's tremendous performance and minimalistic UI, but the Mozilla team has made leaps and bounds with their browser and it's definitely worth using. Firefox version 8 was just released, too.
Check out some of the vertical tab extensions for Chrome. These extensions have some major limitations because they can't really modify Chrome's user interface, but if you're a die-hard Chrome user, it's your only option.
As for me, I've switched back to good ol' Firefox. My affair with Chrome was wonderful while it lasted (we'll always have version 15…), but I'm going to stick with the browser that gives me vertical tabs.