Bill Gross has been getting a lot of press lately. The serial entrepreneur and CEO of UberMedia masterminded keyword search advertising in the heydey of the dotcom era, a system Google has perfected to earn billions, but Gross now believes he's onto a bright idea in the social network space — with Chime.in. In a territory saturated with household names like Facebook, Twitter, and Google+, Gross plans to set Chime.in apart by filtering the noise.
Chime.in, which made its public debut on October 18, refers to itself as an "interest network," but what exactly makes it different from the social networks we already use? Gross seems to be aware the just another social network isn't going to be a winner, but he's developed an idea that may cause some ripples. At a glance, Chime.in is the same as any other social network with the ability to post status updates up to 4,000 characters (called "chimes") and share media publicly or privately with friends. What's causing some to take notice is that Chime.in allows the users to be in full control of the advertisements displayed on their pages and in their posts. In fact, Gross plans to split the proceeds from ad revenue 50/50 with the users. Whaaaat?
Paid social networking? Really? Oh boy. If you thought Facebook was addicting, now imagine getting a paycheck for using it. But will Chime.in be able to lure the masses with financial incentive? I personally doubt it, because nothing makes a website "uncool" more quickly than pasted everywhere (you've seen Social Network, right?). So, what exactly can Chime.in offer its users? According to Gross, content more relevant your interests. Hmmm…color me skeptical.
When you first start your account, you're asked to check a few boxes to help decide the news bits you'll receive, but despite my best efforts, I still have Ashton Kutcher poisoning my "chimeline" — perhaps I'm in denial, and Kutcher really IS relevant to my interests. For the most part, the Chime.in is Google+, but with the exception that I have almost no confidence in the effort — I'm probably not going to put too much time into a social network that I honestly don't think will be around in 12 months.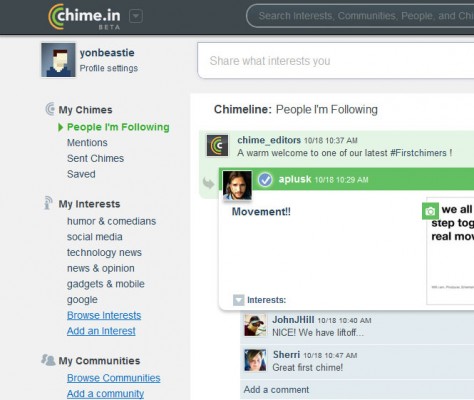 Some companies have already committed to providing content to Chime.in, like E! Online and Disney, but there seems to be very little disparity between the company profiles of this new social network and the well-established communities already present on Facebook. Am I missing something here?
Maybe I'm not being totally fair, because the one nice thing is that you can sign into Chime.in with your existing Facebook or Twitter accounts. I should also note that I'm pleased to see more competition for Facebook, because Zuckerberg's service only gets better as he sees ideas to borrow.
Is Chime.in worth your time? At this point, I say no. I haven't had a chance to try the mobile apps, but Chime.in is so feature-poor that I'm not sure I need to. Is Chime.in poised to be a Facebook or Twitter killer? Not yet. From my first impressions I would guess not ever.
Chime.in has advertised itself as a replacement for social networks (Facebook, Twitter) and bookmarking sites (Digg, Reddit), but at launch it looks like a desperate attempt at a Google+ clone. If that piques your interest, Chime away.