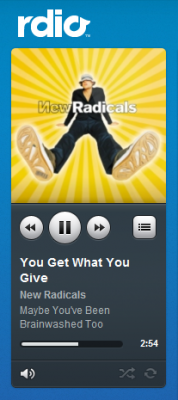 It's not everyday when you come across a media-streaming service that's both free and has absolutely zero advertisements, but popular music-streaming service Rdio is bringing U.S. users just that (sorry, foreigners). They're allowing you free access to their database of over 12 million songs without being bombarded with pesky ads and giving you the same great UI as paid users. There's no need for a credit card or anything more than just your email address and a password.
However, there's a slight catch (and you knew there'd be one). For the free users, Rdio is implementing a "customized meter" to limit how much music you listen to on a monthly basis. It'll show you your usage at the top of the page, so that way you know exactly how many more songs off of that Adele album you can listen to before you hit the threshold.
Free users will also not be able to use Rdio on their mobile devices — you'll have to pony up $9.99 a month to do that. However, you can freely use either the web or desktop application.
Happy listening!