Finally do we no longer have to keep asking Mark Zuckerberg when his iPad app will be hitting the public spectrum. After months of speculation, delays, sneak peeks, and even a dead giveaway, us iPad users finally have our Facebook.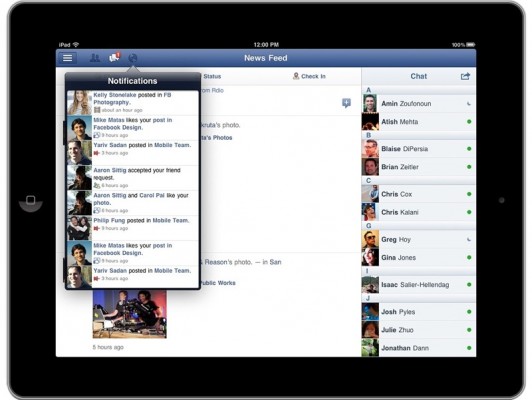 Unsurprisingly, it looks almost identical to the hidden iPad app that was included in the iPhone app update back in July. It has a nice, two-pane view and strongly resembles the iPhone version, which includes a left-hand navigation bar for accessing the News Feed, photos, messages, Groups and settings. However, it doesn't include any of the newer features such as Timeline, but that will probably come when Facebook's web interface updates to Timeline. Some of the nicer features of the iPad app include chat, full-screen games, News Feed notifications, and HD video with AirPlay support, which will allow you to stream pretty much any video posted on Facebook to your AppleTV or other AirPlay-compatible device.
One prominent feature that Facebook wanted to emphasize was how photos and videos are a big part of the iPad app. You'll be able to view them at full-screen, pinch-to-zoom on photos, and take photos and videos on your iPad and upload them directly to Facebook.
Facebook games are also a big feature in the iPad app, with full-screen support thanks to Facebook Platform for mobile devices and iOS. Some popular games will even support additional features such as Facebook Credits.
So, what took Facebook so long to come out with a much-needed iPad app? Well, Zuckerberg for one said that the iPad doesn't deserve a dedicated Facebook app since it's not really a mobile device to him. Eventually Facebook gave in and decided to create an experience that was better than the website on an iPad.
Facebook's official iPad app is available now, along with updates to the iPhone and iPod Touch, in the iTunes app store.