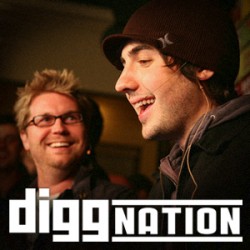 Love it or hate it, Diggnation is a popular podcast that has helped put web-based television on the map. The premise is simple: two dudes (Alex Albrecht and Kevin Rose) sit on a couch, drink beer, and discuss some of the top news from the social news bookmarking website Digg.com. Unfortunately, the days of Diggnation are numbered, as Kevin and Alex recently announced they will end their 6+ year run at the end of 2011.
I'm a long-time fan of the show and have been watching it from its early days in 2006. Albrecht and Rose have a chemistry that isn't common in podcasting, and you can't help but laugh as the two former TechTV friends joke around with their producer (Preggar) and cameraman (Hippie Glenn). Perhaps the best part of the show is getting a candid look at Silicon Valley shaker Kevin Rose and hearing about his many connections in companies such as Facebook and Apple.
But now it's coming to an end and I need something to fill my Wednesday nights. Is there anything out there that can fill the shoes of Diggnation? Here are a few possibilities.
The brainchild of Kevin Rose, Foundation is a series of in-depth interviews with the founders of important start-ups in the Bay area. As an angel investor himself, Rose is able to get to the heart of the start-up process during these casual conversations. Foundation is an inspiring look at the movers and shakers in the tech industry. Definitely worth a look.
While Kevin Rose is developing Foundation, Alex Albrecht has been crafting the Totally Rad Show (TRS) into a prolific video game and entertainment podcast with a big following. I gave it a chance and to be honest, it wasn't my cup of tea. Still, Albrecht and co-hosts Dan Trachtenberg and Jeff Cannata know their stuff. They keep it fresh by constantly changing locations and format; I can appreciate the effort. It's a must-see if you're into video games.
I'm a big fan of This Week in Tech because  it's so reminiscent of The Screen Savers. Leo Laporte brings in regular guests like Patrick Norton and John C. Dvorak to discuss the latest in technology news which often goes off the rails in a funny and informal style. A few episodes made me a fan of Dvorak, who is famous for his crotchety rants and his own regular podcasts No Agenda and the now-retired Cranky Geeks.
David Pogue is a riot and posts short tech-related videos in a unique way. His videos are generally funny and intended to show the good and bad aspects of a product or service without explicitly stating them. For example, his recent post about Google Wallet shows the convenience and impracticability of Google's newest game-changer. Pogue's videos will keep you busy and informed.
Walt Mossberg is a technology columnist for the Wall Street Journal and has a lot of useful tips for picking out products, from digital cameras to tablet PCs. Mossberg is also a prolific blogger and event host for All Things Digital and has rubbed elbows with the likes of Steve Jobs and Bill Gates. Mossberg's perspectives are informative, relatable, and dog-gone-it useful.
Conclusion
In truth, I don't think anything will be able to take the place of Diggnation if you've been watching for as long as I have. Revision3 and TWiT have a slew of great tech shows like TekZilla, Giz Wiz, and the Giga Om Show,  but nothing I've found can match the comedy and attitude of Diggnation.
All good things come to an end, and we'll miss Diggnation, but hopefully these other great podcasts will keep you from being left in the lurch.