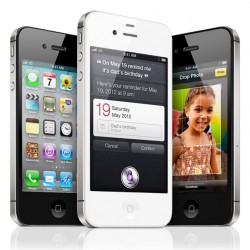 Apple announced yesterday a new addition to the iPhone family in the form of the iPhone 4S. While it's not the iPhone 5 that everyone was expecting, the 4S does come packing with a healthy speed upgrade that's complemented by iOS 5, as well as a few exclusive features.
First off, Apple talked about the new update to iOS and went through some of the new features included. We've known about iOS 5 for a little while, so here's just a brief recap of some of the noteworthy features that you'll get, as well as a few new ones that we've not heard about yet:
Apple made a new app called "Cards," where you can create greeting cards and such, and Apple will do the rest (print and even mail them for you!) The app is a free download, but will cost you $2.99 within the U.S. and $4.99 internationally for each card you make.
Find My Friend will let you (go figure) find your friends who have opted to share their location with you and vice versa. You'll also be able to invite friends to share their location — for instance, when they're on there way to your house and you need to give them direction.
 iCloud! Apple's very own cloud storage service will come free with iOS 5 (and Lion).
Notification Center is a swipe-down menu that reveals all of your notifications, something that Android users have had for years.
iMessage is a texting app that works on all iOS devices running iOS 5. iPhone users will be able to send text messages, photos and videos to iPad and iPod Touch users, and vice versa.
Seamless Twitter integration. You'll be able to tweet from Safari, YouTube and other default, built-in apps.
Apple has finally added tabbed browsing to Safari.
Camera access from the lock screen (also something that Android users have had the option to do). You'll also be able to use the Volume Up button to snap a photo. You can add grid lines, use pinch-to-zoom, and set auto exposure and auto focus to lock. You can even do small edits to your photos right from the app.
No PC required. Finally, Apple has pulled the plug on needing to connect  your iDevice to a computer to activate and use it. You'll be able to wirelessly sync your data (again, something that Android users have had for years).
iOS 5 will be a free update available on October 12th and will work for the iPhone 4s, iPhone 4, iPhone 3GS, 3rd- and 4th-gen iPod Touch, and both iPads. Sorry, older-gen iDevice users!
Next, Apple issued a small, but significant UI update to the iPod Nano by adding bigger icons and multi-touch support. It also comes with a built-in fitness sensor and they've added 16 different watch faces for the users who like to slap the device on a wristband (you know who you are). The iPod Nano is now $129 for the 8GB model and 16GB for $149.
The iPod Touch also got its price lowered to $199 for the 8GB model and now comes in white, which will be available October 12th. Every new iPod Touch will also come with iOS 5 and iCloud on board.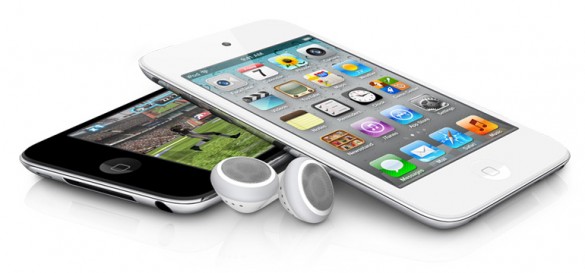 Drum roll, please! Apple then moved onto to the iPhone and officially announced the 4S.  No cosmetic changes from the iPhone 4, but it comes packing with their new dual-core A5 chip, which makes it twice as fast as the iPhone 4. It also has dual-core graphics, which makes it seven-times faster than the iPhone 4's graphics. Despite the faster CPU and graphics, the battery life is still a honking 8-hours 3G talk time and 10 hours of video playback.
Apple also added an 8 megapixel camera (with a wide f2.4 and 1080p capabilities), a dual-mode GSM/CDMA radio, and Siri virtual assistant, which allows for speech-to-text and various other voice-activated tasks (sound familiar, Android users?).
The iPhone 4S will be available in both black and white and will be priced at at $199 for 16GB, $299 for 32GB, and $399 for the 64GB model. You'll be able to get your hands on the 4S on October 14th with pre-orders beginning on October 7th. Also, I should add that Sprint will be joining in on the iPhone party along with AT&T and Verizon. Have fun, you three!