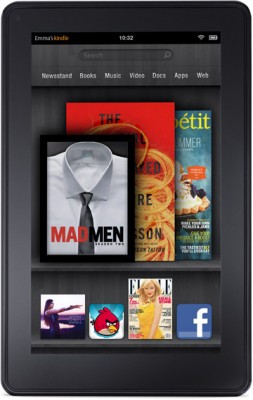 I love my Kindle. I was hesitant to get one at first because I tricked myself into thinking that there was something to the "real book experience" that I couldn't get from a Kindle. I was wrong — I tried the Kindle, became enamored by the size, portability, and battery life, and now I have hundreds of e-books. I'll probably never buy a paperback book again… sure, the Kindle has some experience problems, like the hassle of quickly flipping back to reference something at the beginning of the book, but the good just vastly outweighs the bad.
I was pretty excited to see what the Kindle Fire tablet would offer me. I was positive I would upgrade, but now that I've seen what it's all about, I am almost positive I won't. Why? I'm going to do my best to show why I will not upgrade to a Fire with a picture.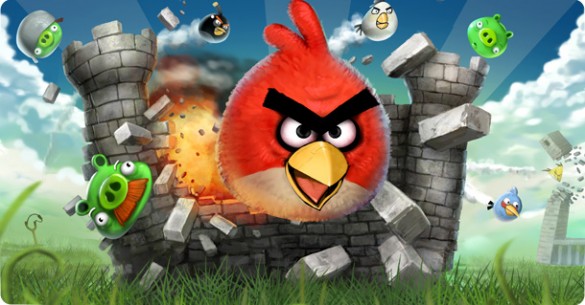 See that? It's Angry Birds, and it will prevent me from buying the Kindle Fire to read books.
I've had this conversation with a few friends that own iPads. I ask, "What is reading like on that thing?" They hand it over and give me a hack, and to be honest, it's amazing. Beautiful even. There is absolutely nothing about the Kindle page-to-page experience that I prefer over that of the iPad. But how many of my friends use their iPad for reading?
Zero. Goose egg.
The problem is that the iPad has so many other features, so many other forms of quick entertainment that it becomes almost impossible to stay focused on a book! Internet browser, Twitter, frickin' Angry Birds. While the reading experience on an iPad is quite nice, each of my friends admit that they pull out their Kindle (or *gasp* an actual book) if they want to do some serious reading.
The beauty of the Kindle, and the reason I will keep mine for a great long while, is that it is a one-purpose device for an activity that deserves 100% of your attention while engaged in it. I like the idea of a cheaper alternative to an iPad that runs on Android, but I almost disagree with attaching the Kindle name to it. It's going to be an impressive device that almost nobody uses for reading, just like the iPad.
So, there you have it. I hope somebody from the Kindle development team stumbles across this article and bears in mind that some people want a Kindle that can only be used for reading. The Kindle Fire is going to be a really neat device (arguably better than the iPad), but I don't see myself retiring my Kindle 3 any time in the near future.