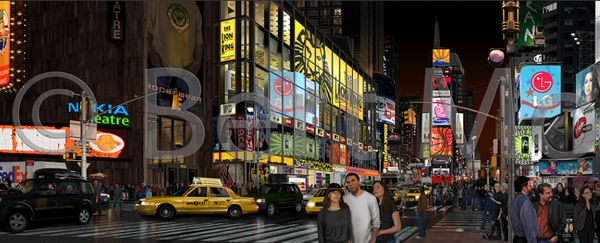 The amount of time that it took to put together this art piece, a true feat of digital mastery, is almost unfathomable. How much time? Try 4 whole years! And this was no side project – the artist, Bert Monroy, worked full days on it as if it was his full time job. All that time to create this one image. The amount of dedication necessary to succeed with this project is really incredible.
The image (the largest Monroy has ever created) was unveiled at the Photo Plus Expo in New York on October 28, 2010 as a work in progress and now it makes its world debut as a finished product. The image has led to the beginning of a tour that will reach New York, Chicago, and Los Angeles, giving Monroy a chance to showcase his talents and share some of his tools and techniques during a one-day seminar in each city. The seminar is being called, "The Making of Times Square: Live!" Straightforward and to the point, hopefully a trait that he will continue into his lectures.
On to the image: What makes it so special? Well, for starters, there are absolutely no real images used in the virtual painting. Everything was created within the Photoshop program. Altogether, the image is compromised of almost 3000 individual Photoshop and Illustrator files. To create the hyper-realistic look, Monroy had to use over 500,000 layers and an image size of 60 inches by 3oo inches. Combined, all of the images make up a panoramic photo that takes up 6.52 GB on a hard drive, after it's flattened.
Within the Times Square scene, if you are well informed, you can see a few of the imaging industry's biggest players like John and Thomas Knoll (the founders of Adobe Photoshop) standing in the main foreground. He also did his best to include people from his own group of family and friends, standing amongst some of the most famous landmarks in that area.
For more information and a closer look at the image head on over to Bert Monroy's website.