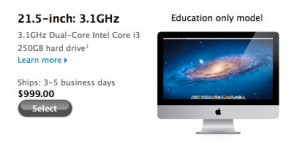 Just in time for all the back-to-school shenanigans, Apple has silently added a cheaper iMac model to its lineup of all-in-ones. This new 21.5-incher is priced at just a dollar shy of $1,000 and comes packed with a last-generation 3.1GHz Intel Core i3 processor, 2GB of RAM, 250GB of hard drive real estate, 256MB of AMD Radeon HD 6750M graphics, and has OS X Lion pre-installed. However, a Thunderbolt port appears absent.
As you can tell, this $1,000 model has a lot less horsepower than the rest of the iMacs in the lineup. The next slowest model that Apple offers is priced at $1,199 and comes with a 2.5GHz Core i5, 4GB of RAM, a 500GB hard drive, and 512MB of AMD Radeon HD 6750M graphics. However, Apple also sells a refurbished iMac with more RAM, but lesser graphics for $929.
This isn't the first time Apple has released education-geared iMacs. They did it back in 2006 when they released a cheaper $899 model. It had a 17-inch display, a 1.83GHz Intel Core Duo processor, 512MB of RAM, an 80GB hard drive, and Intel GMA 950 graphics.
Here's the kicker for these "education-only" iMacs, though (you knew there'd be one). They're only for sale to education institutions, not for individual students. So, since you won't be able to grab one yourself, be sure to call up the head honchos of your school and plead to them for all its worth.