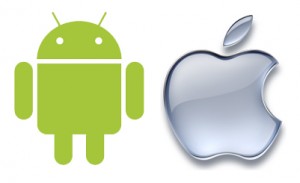 It's pretty impressive that a company that only sells one type of phone in a given year has grabbed the top spot of the world's largest smartphone manufacturer (it's also pretty impressive that the same company has more cash than the U.S. government). Apple now owns 19.1 percent of the smartphone market share followed by Samsung with 16.2 percent and Nokia, RIM, and HTC finishing out the top five.
While Samsung is close to overtaking Apple, don't get too excited when/if that happens – it won't be a fair fight. Samsung will have had a plethora of smartphone models on the market, while Apple will still have their lone iPhone. Frankly, I'd still be impressed with Apple if they weren't number one.
Unfortunately, that's where the impressiveness of a single phone dominating the market share comes to an end. Android still reigns number one as far as mobile operating systems are concerned. 40.1 percent of smartphones are running Google's platform, while Apple's iOS is in a not-so-close second at 26.6 percent.