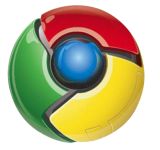 So you've got a shiny new Chromebook. You've installed all of the stock Google apps — like Google Docs, Gmail, Google Calendar, and Google Reader. But you need more apps to do your work.
The big problem is choosing apps from all of the options that are available. Let's wander over to the Chrome Web Store and look at five apps that can help you do your work.
ShiftEdit
Whether you're a programmer, a web author, or a writer, a good text editor can be indispensible. ShiftEdit is that and a bit more.
ShiftEdit is what software developers call an integrated development environment (IDE for short). ShiftEdit is very flexible. You can code and write in any number of languages — like HTML, Javascript, Python, Ruby, and XML — and it highlights the tags for you.
Best of all, you can use ShiftEdit to connect to your own web server, your Dropbox account, or a Subversion version control repository. This gives you a bit more control over where your files are stored.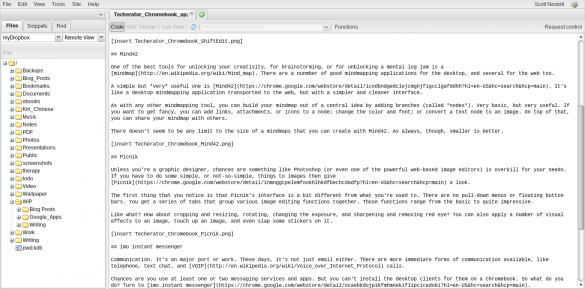 Mind42
One of the best tools for unlocking your creativity, for brainstorming, or for unblocking a mental log jam is a mindmap. There are a number of good mindmapping applications for the desktop, and several for the web too.
A simple but very useful one is Mind42. It's like a desktop mindmapping application transported to the web, but with a simpler and cleaner interface.
As with any other mindmapping tool, you can build your mindmap out of a central idea by adding branches (called nodes). Very basic, but very useful. If you want to get fancy, you can add links, attachments, or icons to a node; change the color and font; or convert a text node to an image. On top of that, you can share your mindmap with others.
There doesn't seem to be any limit to the size of a mindmaps that you can create with Mind42. As always, though, smaller is better.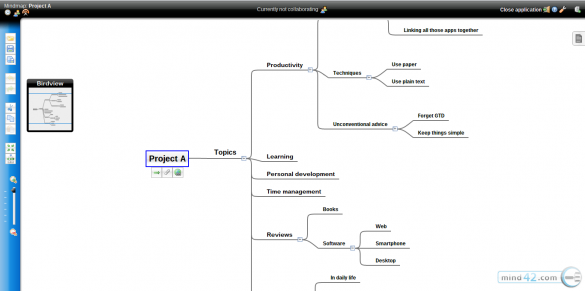 Picnik
Unless you're a graphic designer, chances are something like Photoshop (or even one of the powerful web-based image editors) is overkill for your needs. If you have to do some simple, or not-so-simple, things to images then give Picnik a look.
The first thing that you notice is that Picnik's interface is a bit different from what you're used to. There are no pull-down menus or floating button bars. You get a series of tabs that group various image editing functions together. Those functions range from the basic to quite impressive.
Like what? How about cropping and resizing, rotating, changing the exposure, and sharpening and removing red eye? You can also apply a number of visual effects to an image, touch up an image, and even slap some stickers on it.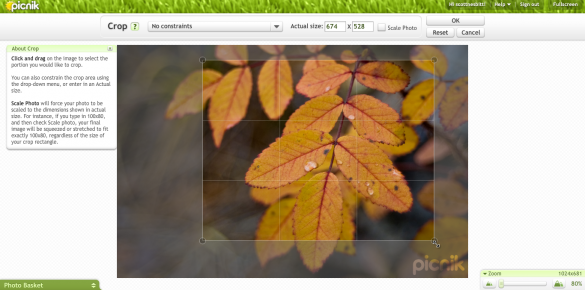 280 Slides
There comes a time when all of us have to stand in front of others and give a presentation. A presentation usually means slides, and slides in the working world means PowerPoint. But you're not going to find PowerPoint on your Chromebook!
While the Presentations component of Google Docs is quite good, not everyone likes it. There are alternatives on the web, and one of the better ones is 280 Slides.
280 Slides is like Apple Keynote or PowerPoint for the web. In fact, you can download your slides as PowerPoint files when you're done. Or, you can run your slides off the web.
The app comes with a number of basic templates and layouts — nothing that will win design contests, but enough to create a good-looking presentation. You can add images, movies, basic shapes, and notes to your slides. Really, the only other useful feature that's missing is custom transitions between slides.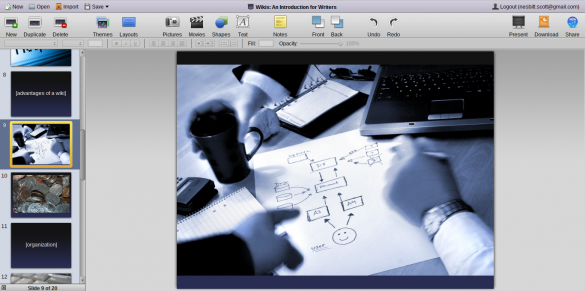 imo instant messenger
Communication. It's a major part or work. These days, it's not just email either. There are more immediate forms of communication available, like telephone, text chat, and VOIP calls.
Chances are you use at least one or two messaging services and apps. But you can't install the desktop clients for them on a Chromebook. So what do you do? Turn to imo instant messenger.
imo is a gateway for using a number of messaging services including:
MSN
Skype
Google Talk
Yahoo! Instant Messenger
AIM
Jabber
All you need to do is log in with, say, your Skype credentials and you can make a voice call or do a text chat. imo is literally a one-stop shop for all of your messaging needs. Unless, of course, the service that you use isn't supported…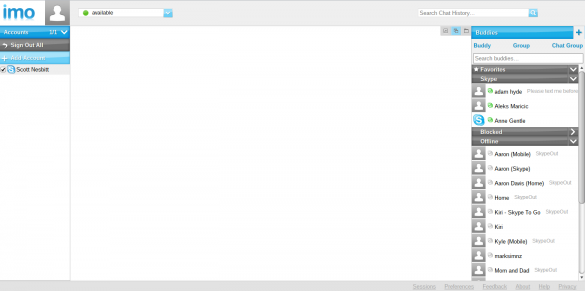 Have a Chromebook? What apps do you find essential for doing your work? Share your picks by leaving a comment.