A vehicle is one of the most important assets we have. It gets us to all the vital places that we need to go, like to work and to the grocery store. The time spent in our cars can really add up, so why not make those commutes more enjoyable by adding a few bells and whistles that would make any fellow geek jealous?
Add USB Ports

It's a shame that the auto industry hasn't caught up to modern times yet as far as power sources go. I mean, we're still using cigarette lighters as a power source. How ridiculous is that?
By spending as little as a few bucks, you can be charging your devices the modern way by equipping USB ports inside your vehicle. USB car adapters are available pretty much anywhere. I bought this one on Amazon and while it costs about $20, knowing that it's made by a quality manufacturer ensures that I won't get that annoying whining noise that comes with cheaper, lesser-quality car adapters. It also pumps out 2 amps to charge larger devices like an iPad (a feature that many USB car chargers lack).
Add Bluetooth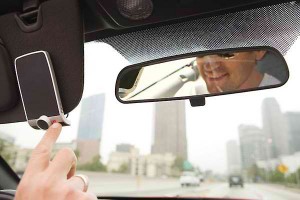 Not only is equipping your car with Bluetooth a pretty geeky thing to do, but it can also be a literal life-saver when you're on the road. Having your hands free while chatting with someone on the phone is both a convenience and a safety precaution.
A lot of newer vehicles have Bluetooth built right into the factory stereo system by default, but if you own an older vehicle that doesn't have Bluetooth, you can still take advantage of the feature by installing either a universal kit or a stereo-specific adapter. Universal kits are merely just Bluetooth speaker boxes that you can place anywhere in your car, like these.
Stereo-specific Bluetooth kits are generally more expensive, but it allows you to use your factory stereo and speakers to talk on your phone without the need for an extra speaker box. Of course, there's always the option of going the headset route if you don't mind things sticking to your ear during the car ride.
Make Your Stereo MP3 Player-Compatible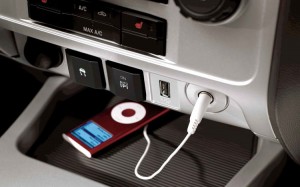 Newer vehicles nowadays have an auxiliary (AUX) input built right into the factory stereo, allowing you to easily connect an MP3 player and start rocking out. However, older vehicles don't have this. If you're one of those with an older vehicle, you might try looking to see if the back of your factory head unit has red and white RCA female ports and if so, you can easily plug in a RCA-to-3.5mm cable and route it through the glove box and into the interior.
If you have a cassette tape deck, you can use a cassette-to-3.5mm adapter. If both of these options are not available, you're only choice (without using the awful FM transmitter) is to buy an aftermarket head unit with a built-in AUX input that sell for as little as $60.
Hook Up A Dedicated MP3 Player
Using your smartphone as an MP3 player can be really nice at times, but it can also be a pain in the rear end to bust it out and plug it into your stereo every time you want to listen to music in the car. Not to mention whenever you get a call, you have to reach over and unplug it. That's why I just ended up getting a cheap, dedicated MP3 player to leave in my car that's always plugged in and ready to go. That way all I have to do is turn it on and press play. I currently have an old iPod Mini that only cost me $25, so if it happens to get stolen, it won't be too much of a biggie.
Install A Laptop Stand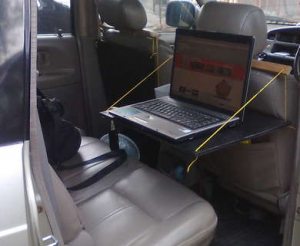 This modification is more aimed at passengers rather than the driver. Putting a laptop stand in your vehicle is an easy way for you to take your laptop on the go and provides passengers great hospitality. You can plug it into your stereo system and blast your music library or watch movies in surround sound on the go!
You can buy a pre-made laptop stand or make your own for cheaper. Since laptops only last a few hours on a charge, it would also be a good idea to get a power inverter that you can plug into your cigarette lighter, like this one.
If you have any other ways to geek out your car, leave them in the comments!