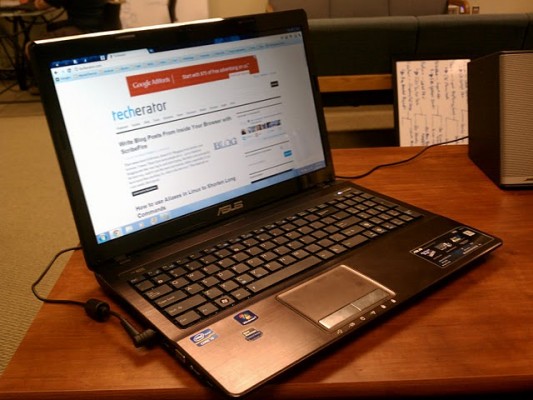 [ad name="ASUS K53E-A1″]
Asus makes all kinds of laptops. Sometimes it's hard to even know which model is what with the number-based naming scheme. But, I believe that I am using a laptop that is noteworthy in its design and usability, the Asus K53E-A1. The more I use this laptop, the more I enjoy it.
Running Chrome, playing Minecraft, streaming Netflix, and watching YouTube are all great and flawless experiences on the K53E. As a browsing and media-consuming laptop, the Asus K53E is great. Just don't plan on going unplugged for long, as the battery life is about 3-4 hours.
Asus seems to love the new brown look. Many of the newer laptops by Asus, the Transformer tablet with Android, and now the K53E-A1 laptop all have options in this color. The brown is a great color and a fresh take on the usual "black" electronics. The aluminum on the upper side of the body is also a great touch and gives the laptop a richer feel.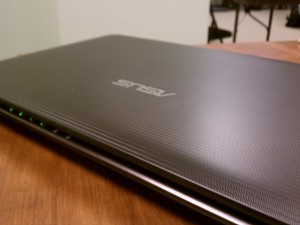 As a "daily driver" work laptop, I am very happy with the K53E. The keyboard is Asus's chiclet style, which I love. It is easy and responsive to type with, and it even fits in a nice number pad. I use Google Docs as much as possible, using all the features including Google Draw, which I find exceptionally pleasing because of the incredible Asus touch-pad. Multi-touch functions work great, scrolling is smooth even horizontally. It's great to finally start seeing touch-pads that compete with Apple's.
This model includes the Intel CORE i3 processor running at 2.10Ghz,  a 500Gb hard drive, 4Gb of ram, a 15.6″ HD screen, and a full size keyboard with num pad. Even with all these features, this laptop sells for just under $600 on Amazon. It comes with Windows 7 Home Premium and the usual Asus software including Asus Web Storage which can be very useful if you store a huge amount of data at home and want to take it anywhere with this laptop.
If you are a student looking to get a great laptop for school, someone looking for a good browsing laptop for a good price, or a business person looking to have a comfortably sized laptop, the Asus K53E is a great choice. Just be prepared to have an extra battery on those long trips.