We already mentioned it earlier today, but the new Mac OS, version 10.7 (nicknamed Lion), was released today. At $29.99 for an upgrade version, it's not exactly expensive, but as with any purchase, you want to make sure that you're going to get something good for your money. That's why we decided to put together a list of changes you can expect from the upgrade.
Multi-Touch Gestures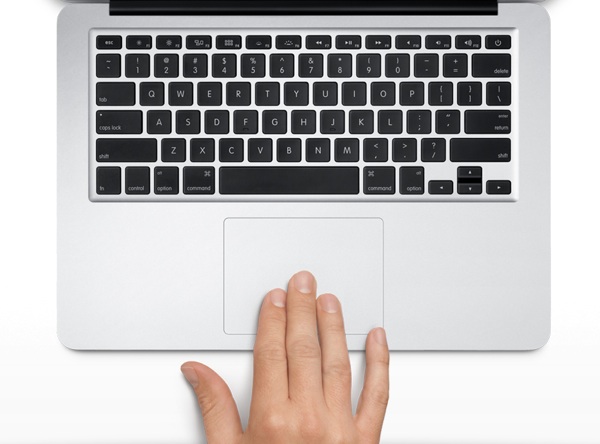 With Lion, comes a whole new set of multi-touch gestures to create a more fluid experience while manipulating your computer screen. When you scroll up with two fingers, your page will scroll up, and if you scroll down, the page will scroll down as well. Scroll to the left and your photos will move left with you. Swipe up with three fingers to view Mission Control, a grid of all the apps and open instances of programs that you have running. Switch between full-screen apps by swiping three fingers left or right. Tap to zoom has been added, as well as pinch to zoom to make it easier to enlarge text and photos. As well, two fingers swiped from the left or right will cycle through open documents, web pages, etc.
Full-Screen Apps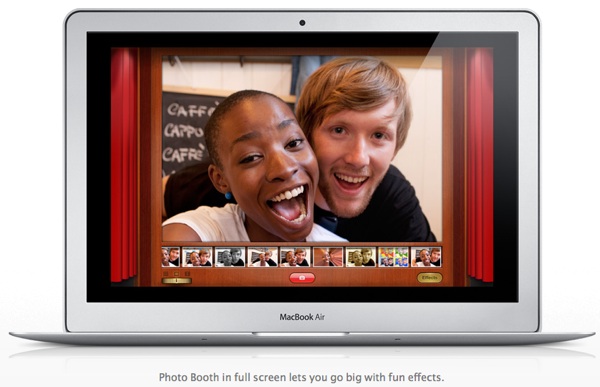 You can take apps into a full screen view with just one click in the right-hand corner, navigating between them with a three finger gesture. Full-screen apps take up every pixel on the screen, which means that 13-inch MacBook won't look quite as small as before. Returning to the standard desktop view is a breeze as well, simply click on the same button in the right-hand corner to revert back.
Mission Control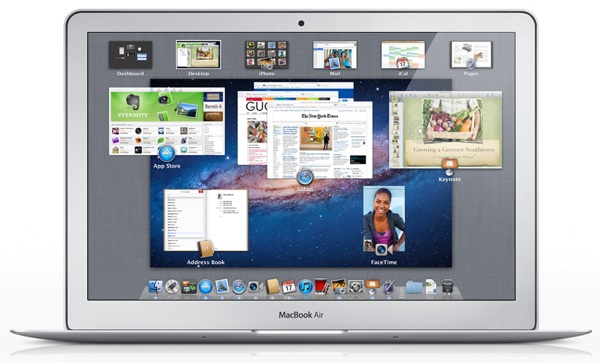 In Lion, Mission Control combines Exposé, Dashboard, Spaces, and full-screen apps to make everything easily accessible from one place. An upward, three-finger swipe will bring up Mission Control, which will display a row of thumbnails at the top that represent your Dashboard, desktop spaces, and open full-screen apps. The lower part of the screen holds the Exposé view that showcases the open windows on your desktop. Just click on the one you'd like to enter and Mission Control will take you there. Spaces is similarly easy to use, letting you click and drag open windows into the desktop of your choice, allowing you to free up valuable space on your computer.
Mac App Store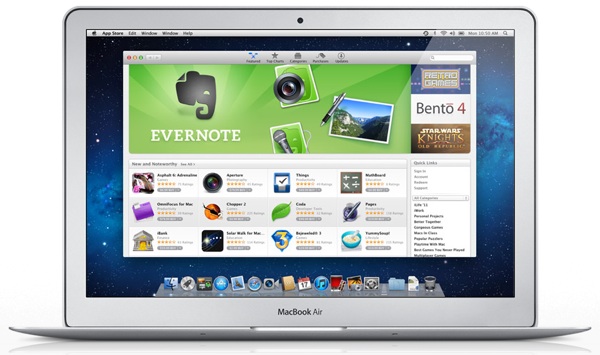 The Mac App Store is back and here to stay. It was already available in Snow Leopard, but it's nice to see that it's sticking around. It's exactly like its iOS version, with a search function, top app lists, and easy downloads. The installation seems to be sped up as well, apps that you download using your iTunes account reach your Launchpad in seconds. Plus, upgrades are pretty much automated, with notifications served to you in order to let you know that an update is ready to go. You can also re-download the apps that you purchase on any Mac authorized to use your account.
Launchpad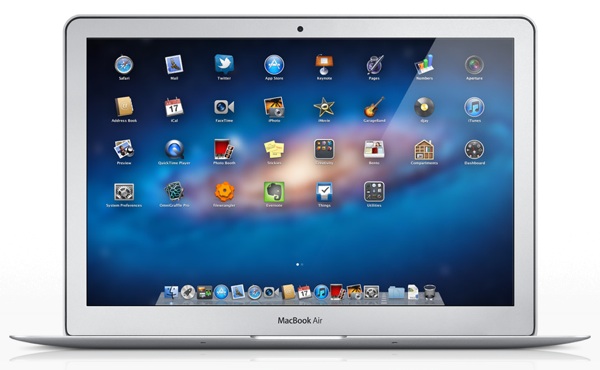 When you click the Launchpad icon in your Dock, all of your open windows fade away and you are left with a grid of all your available apps, ready to be launched. Swipe with two fingers across your trackpad to switch between pages of apps, exactly like your iPhone that you may or may not have. Folders are the same as iOS as well, and clicking on one will open a mini-window to display the apps inside of it. And you can change the order of apps to anything that you'd like, all to make things easier for you. Deleting apps can be done by holding down the icon until it jiggles and clicking on the X that appears in the corner.
Resume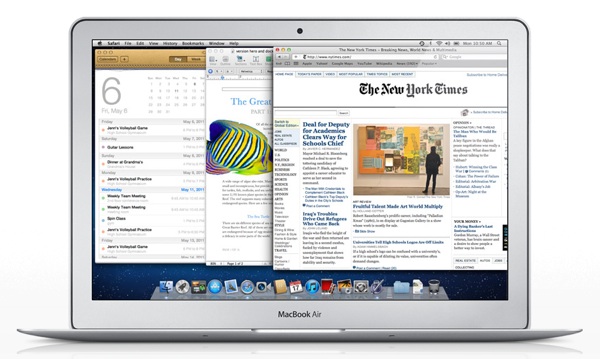 Probably one of my favorite additions to the OS. Now, when you reopen closed apps, they appear in the exact same state that you left them in. It's the same with your desktop, if you need to restart in order to install an update, when your computer turns back on, all of your apps will reopen in the place that you left them.
Auto Save & Versions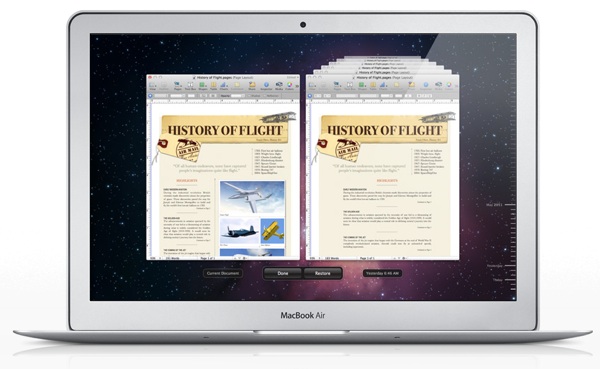 This is something that seems so natural, but yet has been absent for so long. You no longer have to worry about saving every few seconds to avoid losing the precious work you are doing. The saves happen during pauses and in five minute intervals. Of course, they all happen in the background so you're never interrupted by progress bars. You have more options to customize your saving features as well. The Revert feature returns your document to the state when it was last opened, and there is the Lock feature that allows you to prevent any changes to its saved version. Duplicate lets you create a copy of your document next to your original so you can compare the new version with the old. Versions saves snapshots of your documents in specific spaces of time that you can view in an easily browsable timeline.
Mail
The Mail app has gotten a major overhaul to look a lot more like its iOS cousin. Your messages and open email are displayed side by side. There is also a bookmarks bar near the top of the screen with one-click access to your mail folders, even displaying a count of unread messages contained within them. The messages in a list on the left also offer two lines of the message, so you can see a preview of your message at a glance. Search is another addition, as well as a very attractive conversation flow that displays feeds of messages in chronological order.
Lion Server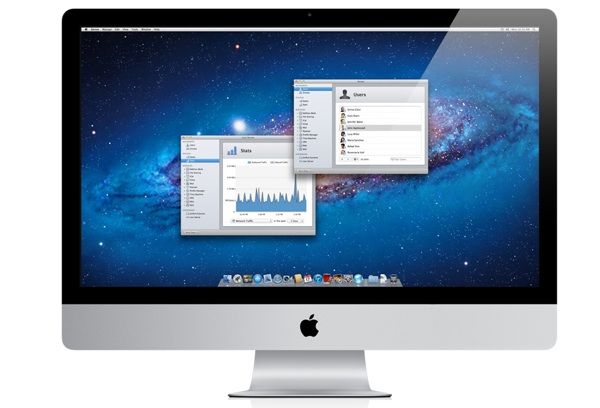 Available from the Mac App Store for $49.99, Lion Server can turn almost any Mac into a full server suitable for home offices, businesses, schools, and whatever else you can think of. It's not going to be something that the average user will find useful, but it's still pretty cool. It comes with a set up assistant that makes the whole thing simple. You can remotely manage computers running Lion, as well as iOS devices like the iPad and iPhone. You can find out more from the official website.
AirDrop
AirDrop lets you share files with people nearby in the easiest way possible, as long as you are close enough to connect to them. Just click the AirDrop icon and it will discover all users within 30 feet of you, then you just drag the file you want to the name of the person you want to share it with. They can find it in their Download folder.
For more information on Apple's big day, check out the information we gave earlier today on the newly released hardware.