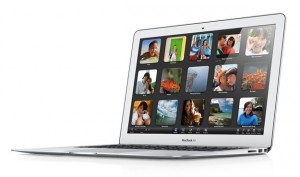 Today is a big day for Apple. They've released updated versions of their MacBook Air and the Mac Mini along with finally unleashing the Mac OS X Lion into the Mac App Store.
Their new MacBook Airs are now equipped with newer Sandy Bridge chips, Thunderbolt ports, and backlit keyboards. The 11-inch model includes a 1.6GHz Core i5 processor, 64GB of solid-state storage, 2GB of RAM, and starts at $999. The slightly larger 13-incher starts at $1,299 and includes a 1.7GHz Core i5 chip, 128GB of storage, and 4GB of RAM. Both variations have Intel HD 3000 graphics on board, as well as FaceTime webcams, two USB ports (SD slot on 13-incher), and of course the speedy Thunderbolt ports.
The Mac Mini line has received a similar internal upgrade with the addition of Sandy Bridge processors and Thunderbolt. The base model starts at $599 and includes a 2.3GHz Core i5 CPU, AMD Radeon HD graphics, 2GB of RAM, 500GB of hard-drive storage, and Turbo Boost 2.0, which allows you to easily overclock to 3.4GHz whenever you're using resource-intensive programs. Apple also released a server version, which will cost you $999 and includes a Core i7 processor and has Mac OS X Lion Server on board.
Mac OS 10.7 Lion is now available in the Mac App Store and is ready to be downloaded and installed onto your Snow Leopard-equipped machine for only $29.99. Upgrading to Lion requires that you have an Intel Mac with a Core 2 Duo, Core i3, Core i5, or Core i7 processor, and at least 2GB RAM and 4GB of hard drive space. You also need to have Mac OS 10.6.8 Snow Leopard installed before you can upgrade to Lion.
In other less-known Apple news, the company also rolled out an updated version of their 27-inch display that comes packing with Thunderbolt, built-in 2.1 speakers, and an HD FaceTime webcam. There's also a FireWire 800 port, Ethernet, three USB ports, MagSafe charging for your MacBook, and a single DisplayPort that's capable of daisy-chaining six devices. Oh, and did we mention that the display rocks an awesome 2560 x 1440 resolution?
If you have a keen eye, you might have also noticed while surfing the online Apple Store that the infamous white MacBook is now kaput. It looks like no more plastic for Apple.