At Apple's semi-recent keynote event, Steve Jobs announced a slew of new software and features that would be gracing his beloved ecosystem of Apple-powered devices. Most importantly, he outlined what we could expect from Mac OS X Lion, and the much-anticipated iOS 5. The latter software update comes with a ton of improvements that touch upon almost every major gripe that users have had with the iOS over the last year.
Here we have highlighted what we think are the most exciting features coming this fall with the public release of iOS 5.
Notification Center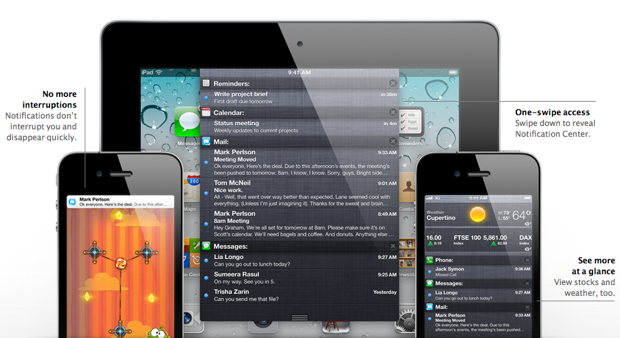 It's been a long time coming, but Apple has finally come to their senses and taken the axe to their ridiculously annoying pop-up system for notifications. Just think, you will no longer be interrupted during literally every task you can perform on your phone with the absurd choice to either deal with it now or banish the notification to cyberspace because there was no other option.
Instead, you've got a neat and clean place to hold all those notifications you build up in a day. Swipe down from the top of your screen and the Notification Center will slide down as well displaying a categorized list of all the notifications requiring your attention. Plus, you'll be able to see what notifications await you from your lock screen, along with information gathered by the Stocks and Weather apps on your iDevice.
Wireless Sync + Updates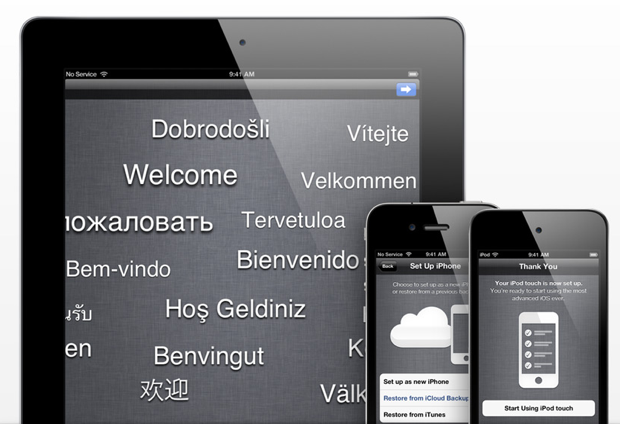 USB cords are a thing of the past (except for charging your device, that still needs a wire). But as far as updates and syncing are concerned, you can put those cords to rest. Starting this fall, when iOS 5 is due for a public release, Apple's devices will be usable out of the box, doing away with the need to first plug in your device, update software, and sync all your media.
Software updates will now be done over the air, like virtually every other smartphone on the market. Syncing will be equally wireless and your device will perform a full sync with your PC every time you plug it into a wall outlet. A huge benefit of this is that all of your Apple-powered devices can now easily stay synchronized, sporting the same media and apps so there is nothing missing for your next road trip.
iMessage
If you've already been using WhatsApp Messenger, iMessage won't change your life too much. iMessage follows the same formula laid down by WhatsApp and is basically Apple's response to the consistently popular BlackBerry Messaging system (BBM). You'll be able to avoid text messaging charges by using the service, and allows you to see when messages are both delivered successfully and when they are read by the intended recipient.
Naturally, with Apple's new wireless sync features, you will be able to continue your conversations on any of your devices. Since this was BlackBerry's only claim to fame with younger generations, it can't mean good things for their company.
Twitter Integration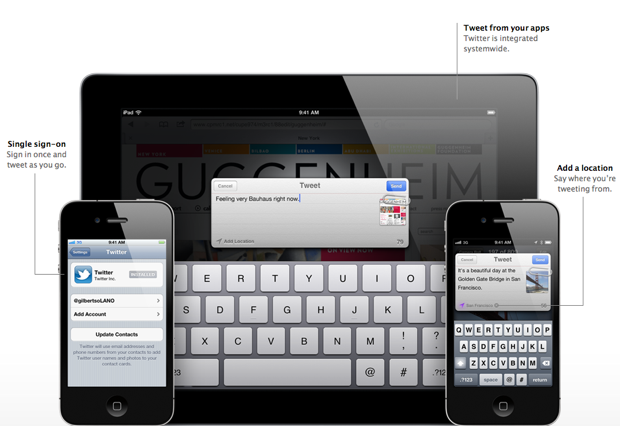 The ability for smartphones to integrate seamlessly with various social media platforms is currently a work in progress, but more and more mobile operating systems are embracing the idea and doing it well, like Windows Phone 7 did with Facebook. It looks like Apple aims to achieve the same success with their inclusion of Twitter in the core of their OS. Besides a dedicated contact field for Twitter usernames, iOS 5 will feature automatic Twitter sharing from the Camera, YouTube, Maps, and Safari apps. It seems like they really thought this inclusion through and it will add a lot of functionality to the platform.
Mobile Safari Update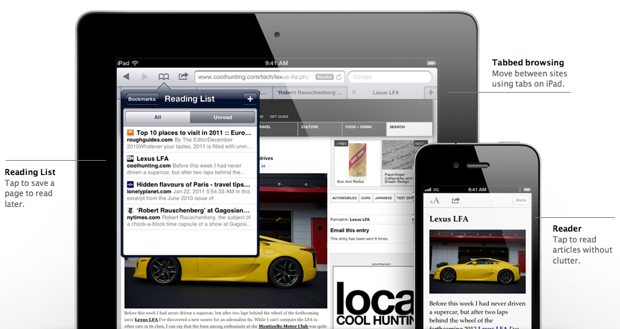 A big new feature in Safari is the addition of "Safari Reader", which will reformat webpages (removing ads and moving text, etc) in order to make the page more readable and "mobile-friendly". Reading List is another new feature, essentially a built-in Instapaper, and lets you save webpages and make them available to read offline across all of your devices.
Tabbed browsing has also been introduced in iOS 5 and it is exactly what it sounds like. Tabs line up underneath the address bar and represent each open web page you have running at that time. In addition to this, Apple has promised "lightning fast" page switching, although we aren't totally sure how fast that will be in terms of concrete numbers, but we do know that lightning is pretty dang fast.
Which of these features excites you most? Any other features from Apple you're looking forward to? Let us know in the comments section below!