It's time once again for another edition of Android App Roundup! After a bit of an absence, we're back and ready to bring you the must-have applications for your Android device. This time around we'll be telling you about ZDBox, a handy little application that collects a bunch of tools into one place for your convenience, and take a look at Carrr Matey, an app that helps you remember where you parked your ship… we mean, car.
If you know of an application that would make a good addition to a future App Roundup, feel free to send us an e-mail or let Evan or me, Kevin, know via Twitter.
ZDBox – Kevin's Pick
If you've had an Android phone for a while, you have probably accumulated a nice collection of useful tools to accomplish various tasks. Wouldn't it be nice to get rid of all of those applications and replace them with a single application that can accomplish multiple tasks? Enter ZDBox.
ZDBox can monitor battery life, monitor data usage, set up "do not disturb" times where your phone automatically silences, lock specific applications so they require a password to open, kill running tasks (not recommended), batch uninstall applications, and batch move applications to the SD Card. All from one easy interface.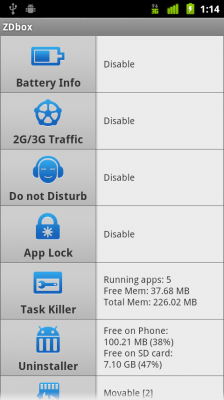 Using ZDBox is pretty self-explanatory. From the main interface, click one of the options to be taken to a sub-interface to set up or run whichever service you want to use. If you don't want to use all of the services and don't want the unused one sitting in the background sucking up resources, they're easy enough to disable completely.
I've personally been able to get rid of four single purpose applications and replace them with just ZDBox. It makes an excellent addition to any Android user's arsenal of utility applications.
Let me start by telling you that I have a terrible sense of direction. And it's not just a bad sense of direction, I also get disoriented very easily. Exacerbated by living in a metropolitan area with 3.5+ million people, I quickly sought refuge from my navigational disability in the Android Market.
I then discovered Carrr Matey. With three r's and a cheerful pirate theme, this app lets you "drop anchor" when you park your car, making it easy to find on your return trip. Using your phone's built-in GPS, you can navigate back to your vehicle with an overhead map view or a handy compass view.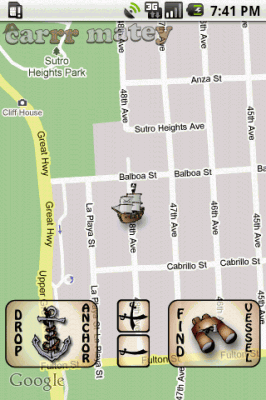 Carrr Matey has a few extra features that make it especially useful to post-16th-century transportation. After setting the location of your parked vehicle, you can enable an optional parking timer to help you avoid expensive parking tickets. If you happen to leave your vehicle in a parking ramp, Carrr Matey's "Harbor Mode" lets you store details like level, letter, color, or number of the parking spot.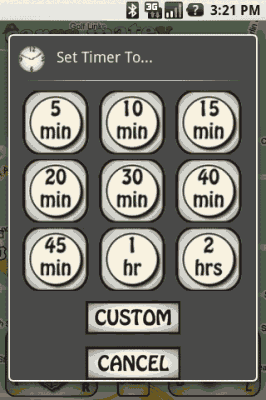 Sure, your friends might poke fun at you when you tell them you legitimately have no idea where you left your car. But don your captain's hat, young sailor, because you've set a course with Android!