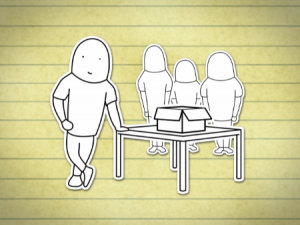 Let's say a family member or close friend wants to show you vacation pictures, but 1) There are too many files and 2) Even when zipped, the file size is too large to attach in an email. You suggest they sign up with Dropbox, a free way to sync and share files across any computer. The trouble is, your friend or family member is too stubborn to sign up for a free account (who doesn't love free?!).
There just so happens to be a web service that gives anyone the ability to send a file directly to your Dropbox. It's called Dropbox Forms, made by Jotform who provides a wide variety of web form creation tools.
It's a completely free service with the option to upgrade to premium plans with more available space. However, the free version only allows a max of 100 MB, which was a problem for me right off the bat since I needed to request a 125 MB audio file from a fellow group member in one of my college courses. If you plan on working with files less than 100 MB, you should have no problem.
When you arrive to the Dropbox Forms homepage, simply click "Create a Dropbox Form" to get started. You'll then need to allow the service to access your Dropbox account. Once that's finished, you can start creating your form. You have two options for this: Either a direct link to a form hosted on JotForm's website or embed the form on your own site.
Whenever someones uses the form to send a file your way, it will automatically sync to your Dropbox where you can easily access it!
Another similar service is AirDropper. I found this to be a little more feasible since there isn't a cap on file sizes. You also have two choice for forms, but it's a little different from how JotForm does it. You can either create a one-time, one-use form or create a reusable form with a password required. However, AirDropper isn't a free service. It'll cost you $12 a month after the 7-day free trial, which is a little more than the $10/month JotForm charges for a premium plan.