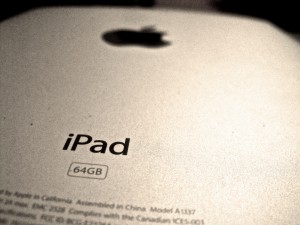 When the iPad 2 came out, I was extremely tempted to get a used or refurbished 1st-gen iPad which are currently selling for around $350 on eBay (dirt cheap for an iPad,) but in the end I forced myself to just stick with my netbook. The biggest problem was that the iPad wasn't meant as a productivity tool (or at least people didn't use it that way), but I kept thinking about the possibility and after some more thorough research, I ended up purchasing a used 1st-gen iPad and sold my netbook. Here's why.
iPad Office Suites Do Exist
The iPad actually has quite a few options when it comes to office suites, which is really all I'm concerned about as far as productivity. iWork (Pages, Keynote and Numbers), Documents To Go and Quickoffice are just a few options that pop into my head. If it's a free solution that you're looking for, Google Docs is pretty much all you need. Personally, I ended up getting Quickoffice since it seamlessly supports Dropbox (which I use religiously).
I haven't had the need for the keyboard dock yet, but I'm sure I'll get one sooner or later when I end up having to crank out a large document on the road.
iPads Are Extremely Portable
I once thought netbooks were the closest to portability that anyone could get. Boy, was I wrong. Very wrong. The iPad is a device I can easily bust out of my bag and start playing with immediately. My netbook, on the other hand, took a little bit more work to get up and running, including waiting a few minutes for it to boot up and connect to Wi-Fi before I could really do anything.
I also don't need to lug around that annoying AC adapter brick. There have been times when I would simply just let my netbook die because messing with the AC adapter would have just been a pain. Laziness on my part? Maybe, but with the iPad, all that's needed is a convenient USB cable and the tiny wall adapter.
iPads Are Faster
Even though iPads have a slower-clocked processor (1GHz compared to the 1.8GHz dual-core my netbook had,) the lightweight OS of the iPad means that applications load way faster than they would on any netbook.
iPads Have Incredible Battery Life
The first-gen iPad's battery life clocks in at around 10 hours according to Apple, but tech review site Tested did their own test and were able to get almost 16 hours of non-stop video playback. My netbook usually mustered up only a measly five hours of juice — six hours tops.
Weaknesses of iPads (and Overcoming Them)
Obviously (and unfortunately) the iPad isn't awesome at everything. There are still some downsides of Apple's tablet that don't make it an adequate option for a handful of on-the-go users. One of the biggest complaints I hear is that the iPad doesn't have any other ports besides the 30-pin connector and the headphone jack — in other words, the iPad lacks USB. To this I say, "the cloud is your friend." Take advantage of Dropbox, Google Docs, iDisk or any other cloud-based service. You'll end up quickly forgetting about flash drives and external storage (at least I did.)
In the end, the simple fact is that there are things that you'll just have to sacrifice for portability in general. It's not just with tablets, but with any netbook or laptop. You won't be able to run specialized software or have a full-sized physical keyboard with a mouse. The browsing experience won't be as solid as if you were on a desktop and you won't have some of the advanced features of a desktop with you while you're on the go. That's simply the nature of the [portable] beast.
I'm interested to hear what thoughts you have for using an iPad/tablet over a netbook or laptop (or not). Shout 'em out in the comments!
Image Courtesy: Yagan Kiely