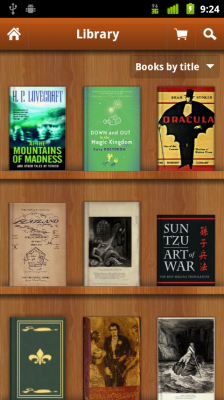 It's been nearly a year since I last wrote about Aldiko, and while the E-book market on Android has exploded since then I still consider Aldiko to be the best reader out there. E-book powerhouses like Amazon and Barnes and Noble have both launched reader applications of their own, but they both lack a seemingly critical feature: the ability to import your own E-books to read.
Luckily for you, Aldiko does exactly that.
In previous versions of Aldiko E-book importing was a bit of a hassle. The books had to be put in a specific folder on the SD card or the application wouldn't even recognize they existed. A few months ago, though, Aldiko got a brand new interface, and with it came easier book importing. By combining this awesome new update with the power of Dropbox, it's not even necessary to connect your device to your computer to import books!
Initial Setup
To get started, you'll first want to ensure that the book you're importing is in the correct format as Aldiko will only accept books of the EPUB variety. If your book isn't already in the EPUB format, it can easily be converted using Calibre which is available for Windows, Mac, and Linux.
The next step is to sign up for Dropbox if you don't already have an account. Dropbox is a free service that lets you sync files across multiple platforms, including Android.
After getting your computer set up with Dropbox, go ahead and move the E-book you want to import to the Dropbox folder. Once it syncs, head on over to your Android device.
Importing the Book Into Aldiko
If you haven't already, go ahead and download the Dropbox client for Android. Once you've signed in, you should see the E-book you moved earlier. Long press on it and select 'Download'.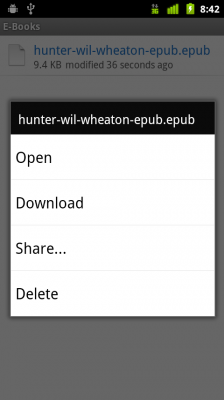 Once the book finishes downloading, switch over to Aldiko. If you aren't already on Aldiko's home screen, hit the Options button and select 'Home'. From here you should see a button for SD card. Once in the SD card you'll want to look for the folder labeled 'dropbox'. You should now see the book you want to import, so go ahead and select it and choose 'Import to Aldiko'.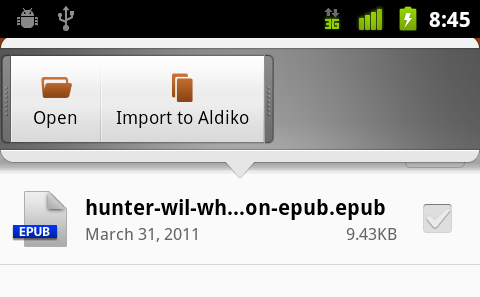 That's it! You can click on the book right now to start reading, or access it from the shelf view later. Happy reading!
Aldiko comes in both a free and paid version, both available on the Android Market. Download the free version by scanning the QR code below, or find it here on the web version of the Market.