If you use Twitter, you probably know how difficult if can be to find a tweet that you posted a couple of weeks ago or more. Maybe it was a pithy quote. Or maybe it was a link to an interesting article or website. But once those 140 characters get mixed up in that sea of tweets you might as well kiss them goodbye.
Or maybe not. While you can't save your tweets from within Twitter itself, there are a number of services that will collect and package tweets so you can download and view them on your computer.
Here's a look at three simple but effective ways to back up your tweets.
Tweetake
Tweetake is a free service that's simplicity itself. All you need to do is log in using your Twitter account and you're ready to go. From there, you can choose what you want to back up – your tweets, favorite tweets from others, those sent by people you follow, direct messages, or everything.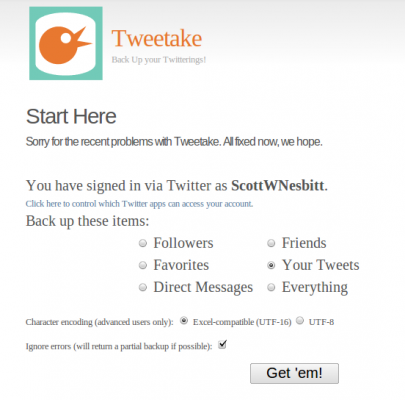 Then, you just click a button and in a minute or two your tweets are downloaded as a .csv file that you can open in a spreadsheet like Microsoft Excel or OpenOffice.org Calc. The results aren't pretty but Tweetake is effective.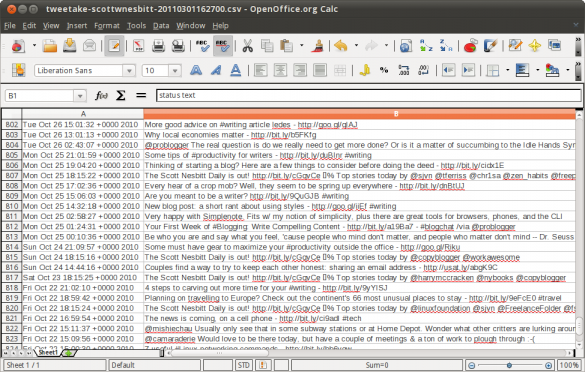 Keep in mind that Tweetake won't backup all of your tweets (unless you only have a few of them). It will go back about four months or so. Still, if you do a backup every 30 days or so, you should be covered.
Tweetscan Backup
Going a step or two further is Tweetscan Backup. Like Tweetake, it's a free service. And like Tweetake, Tweetscan Backup lets you choose what you want to backup – personal tweets, favorites, tweets from followers and friends, replies, direct
messages, or all of the above.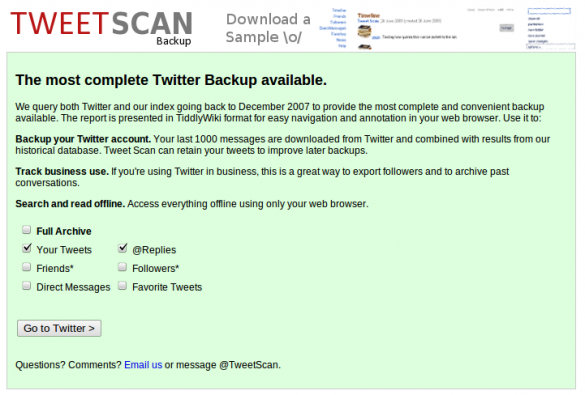 Tweetscan collects your last 1,000 tweets. Depending on what kind of Twitter user you are, that could be a month's worth or a year's worth of tweets. Tweetscan creates a .zip file containing a .csv file and an HTML file. The .csv file, like the one that Tweetake produces, isn't pretty. But that HTML file is something else. Open it in Firefox or Google Chrome and you get a very nicely laid out view of your tweets.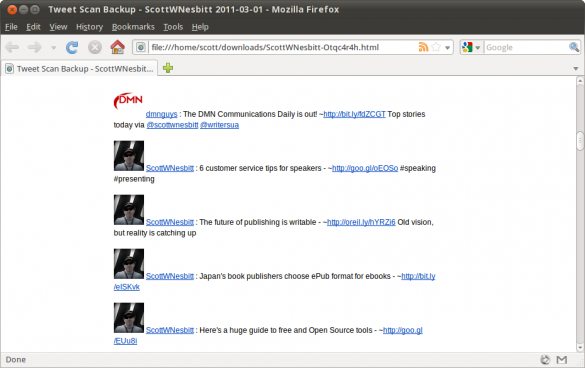 Backupify
I saved this one for last. Why? If you want power and flexibility, Backupify is what you're looking for.
Backupify does more than back up your tweets. You can also use it to archive other social media and Web services like Facebook, Flickr, WordPress, and Google Apps. But we're only interested in what Backupify can do with Twitter right now…
The service is fire and forget. You can tell Backupify to take a daily backup of all of your Twitter stream – your tweets, replies, direct messages, and tweets posted by your followers. Each type of tweet is saved in its own file, which makes finding things easier when you need to.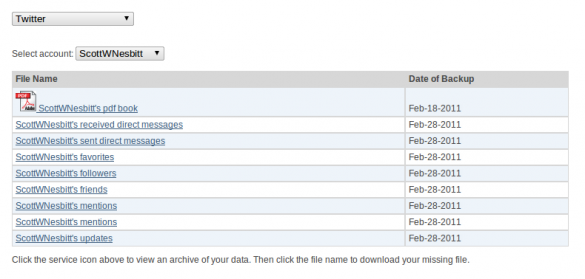 If that wasn't enough, Backupify can create a .zip file of your tweets and every week it collects your tweets into a nicely formatted PDF book.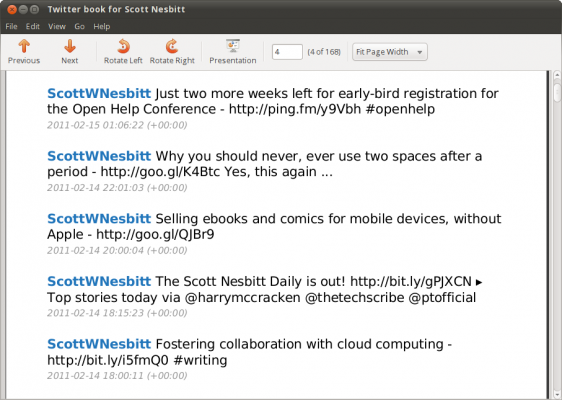 While Backupify has a free option, it's kind of limited. If you want to backup all of your social media, then you might want to take a look at one of the for-pay plans.
Final thoughts
There's no need for your tweets to disappear down a digital black hole. With a good backup service, you can save your tweets for posterity. Or, at least, find that one special tweet that's you want or need to check out again. And these three services can help you do just that.