Remember the old days of sharing or transferring files when you had to put them on a floppy disk or a USB flash drive to move them between computers, or to pass those files to a friend or colleague?  The method worked, but only if you were moving files a few feet away. Even so, doing it got really old really quickly.
Email has made sharing and moving files a bit easier. Slightly. Some people block messages with attachments, others use email systems that limit the size of attachments. Those attachments get stripped from a message or the message gets bounced, something you don't want to happen.  That's where web-based file sharing apps are a boon. Ones like Dropbox and Box.net are great, but they can be a bit more cumbersome.
Enter Ge.tt.
Ge.tt bills itself as an instant, real-time file publishing and sharing service. If you need to share one file or a bunch of them, Ge.tt makes doing the sharing files simple and easy.
Getting going
Head on over to the Ge.tt website and start uploading. While you can upload files right from Ge.tt's main page, it might be worthwhile signing up for an account. The account is free, and lets you remove files at will. On top of that, with an account you can track who has accessed your files. In case you're wondering, the service automatically deletes files that haven't been touched for three months.
Regardless of what route you take, get started by clicking the Create share button. From there, search your hard drive for the file that you want to upload. That can be any kind of file — a document, a video, or a photo.
A couple of things happen. Ge.tt uploads your file (and uploads it pretty quickly, too) and creates a shortened URL for it. That comes in handy with the next step of the process.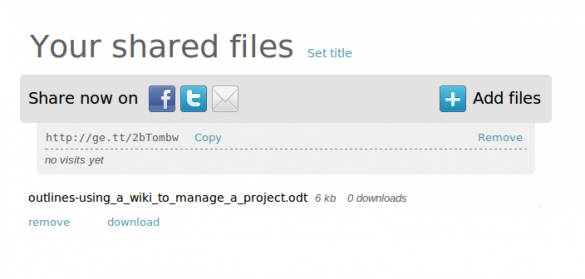 Sharing your files
Your file is on Ge.tt's server. Now what? Time to spread the word. Remember that shortened URL? You can post it to Facebook, Twitter, or send it by email. All you have to do is click an icon on the page that lists your shared files.
With Facebook and Twitter, clicking the icon takes you to the login page for whichever service you choose. After you login, you can post the URL to your friends and followers.
Click the email icon to open an email form. From there, type the recipient's email address, enter an optional message, and click Send. Unfortunately, you can only share your files with one person at a time. If you want to share the file by email with more than one person, just copy the URL and paste it into a message in your favorite email program or service.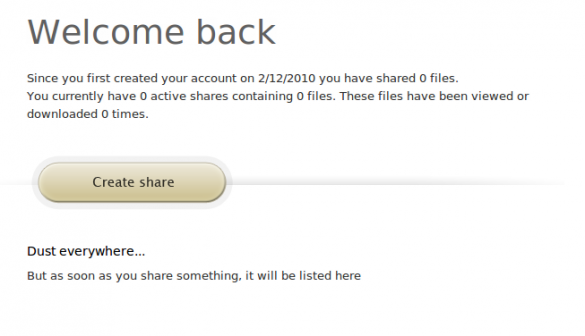 Yea or nay?
If you're looking for long-term storage for your files, or to synchronize them between your computers and devices, Ge.tt probably isn't what you're looking for. But if you need a quick and easy way to share, say, a video that you took with your Flip cam, then Ge.tt is definitely worth a closer look.