It comes as no surprise that Apple's powerhouse 'Pro' line of notebooks has undergone its predictable annual refresh. Making its debut with powerful, updated internals, an HD Camera for Facetime, and an all new Thunderbolt (I/O) technology, Apple has once-again solidified its spot at the top of hardware design.
For a change, cameras and processors are not the headlining feature. Instead, it is the innovative high-speed Thunderbolt (I/O) technology that has taken the spotlight. A collaborative project between two technology giants, Intel and Apple, Thunderbolt brings enhanced expandability to the MacBook Pro line. Thunderbolt features two bi-directional channels with transfer speeds that reach an unbelievable 10 Gbps each. This new technology can be used in a huge variety of peripherals including: RAID arrays, Firewire, USB devices, high-resolution displays, and adapters for HDMI, DVI, and VGA displays.
Now, for you non-geeks in the audience, this means that you can expect blazing fast transfer speeds for your movies and music. No more waiting upwards of 10 or 20 minutes to upload an HD movie to an external drive. With Thunderbolt, you can expect transfer speeds more along the lines of 10 to 20 seconds. HD video playback will float on by, carefree as a summer breeze without a hiccup in sight. Take a look at the graph below for a comparison.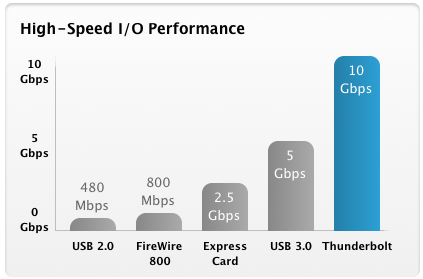 For those of you that are asking, "What happened to Light Peak?", well, you're looking at it. Thunderbolt is simply a rebrand of the original high-speed transfer technology, and you can't really blame them. Thunderbolt suggests speed and power far more than Light Peak. Is that even a thing?  (On an unrelated note, I can't help but feel bitter about Apple's product cycle, effectively rendering my last year's model obsolete.)
At the risk of sounding like a bratty toddler… I want Thunderbolt too!  And for all of you with the money to drop on a new laptop, these brand new offerings from Apple are available right now.