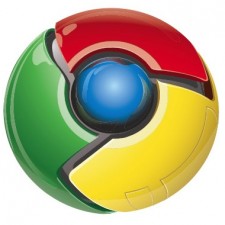 Last week after work, I came home to find a package slip from UPS stuck to my door.  This was a bit odd because I wasn't expecting any deliveries. Always one to take advantage of a misdelivered box of goodies, I headed to the UPS shipping center to check things out.
The serviceman came out of the back room with a box with my name on it. So far so good. It was pretty heavy, but what was in this mysterious package from Kentucky?
Fully accepting the possibility of anthrax, I ripped into the package and I'm sure the moments after were something straight out of a movie: camera on me as a golden light emits from the box as I sit there spellbound, a crazy smile curling onto my face.
Holy guacamole. I was selected for Google Chrome OS pilot program.
I do want to emphasize the surprise factor here. I had applied for its program very early into the registration period and heard absolutely nothing from Google since. Fast forward several weeks, and this nearly no-strings-attached netbook lands at my front door.
At any rate, thanks, Google. I'll disperse my initial impressions….now.
First Contact: Hardware and Appearance
Ok, I know the whole point of the Pilot Program isn't to analyze the computer itself, but I have to acknowledge that the hardware and OS combine into one fancy little unit. For starters, the netbook features a sharp and bright 12.1" display and embedded microphone and web-cam. Under the hood, you have a 1.66 GHz Intel Atom processor (which I've heard will be upgraded in later models). The unit also features standard wi-fi and not-so-standard 3G built in.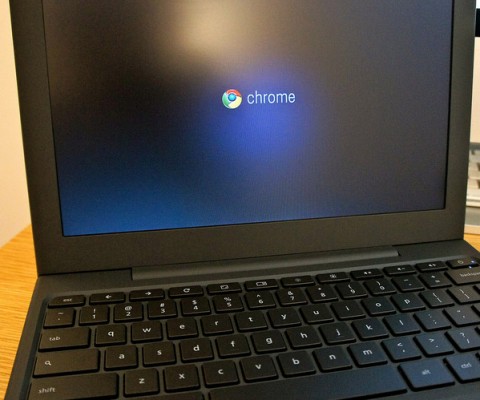 Before even turning this thing on, I was impressed by the general layout and understated look of this device. All black and relatively featureless, this netbook is chic enough to get some puzzled looks. I've been asked by complete strangers on three separate occasions, "What kind of netbook is that?" by people who could see no discerning logos or decals. Two people thought it was a tiny MacBook because of the keyboard layout and large touch-pad (that's right, it's one giant button).
I was getting a good vibe from the Cr-48 before I even turned it on.
Chrome OS: Features and Usability
Before I say anything else, I should point out that I've been using Chrome OS for a week now and it is very hard to tell that it is part of a pilot program. It's a very polished, simple OS that appears to operate just as Google intended. The operating system is a very direct interpretation of the Chrome browser, and because I've been using Chrome for my web activity for several months already, there was zero learning curve from the moment I opened the lid on this baby.
Login and Setup
User log-in is streamlined in that all of your Chrome OS activity is through your existing Google Account. I logged in without a problem, and bam, I was presented with a blank tab of a fresh browser and positively nothing else. My bookmarks and extensions synced automatically and I was impressed by the turn-key mechanism of it all.
Wi-fi vs. Verizon 3G
After my login, my connection to the Internet through my wi-fi router was a little wonky. There were brief connectivity interruptions, and then my University's authentication system seemed to be incompatible at times with Chrome OS — the authentication web page would spit out a bunch of garbage rather than its usual log-in screen. This sort of problem seems to be isolated only to users that are forced to log-in through SafeConnect (as my University requires) because I experienced no wireless connectivity problems at my local coffee shop.
Until I received this netbook, I had never dealt with a 3G device that wasn't a smart-phone. I didn't pay much attention to the 3G card inside until a few days ago when I was stuck in a medical school late at night with a malfunctioning wireless network. I decided to check out the details for the Verizon Wireless connection and was surprised to find a FREE option. This option allows you 100 MB per month of data, which is nothing amazing (I used mine in a few days), but certainly a good safety net in the event you're stranded in the woods and need to tell people on Facebook that "Forests are lame [sadface]".
User Experience
My first week with Chrome OS has been free of both headaches and frills. Google has polished this OS to be a spittin' image of the browser, and that's a good thing if you just want to surf the internet, do some simple business tricks, and get on with your life. For those that like to delve into customizing and optimizing their configuration, this may be a bit frustrating. Your configuration options are limited to touch-pad sensitivity, language, privacy, and a few other odds and ends.
All of the basics of web surfing operate exactly as you'd expect with Chrome OS. Tabs function just as they do in the Chrome browser, and there are very few surprises when it comes to e-application functionality. There are a few hiccups with Adobe Flash, as some websites utilizing the web-cam don't function correctly (Facebook and Cameroid).
Perhaps the biggest adjustment I had to make in using this netbook was with the file system. Google is de-emphasizing local storage, so it isn't surprising that the file space is as simple as a single folder. This isn't a bad thing for most people, as many Windows configurations can confuse casual users when they can't effectively navigate through the folder arrangement of their PC.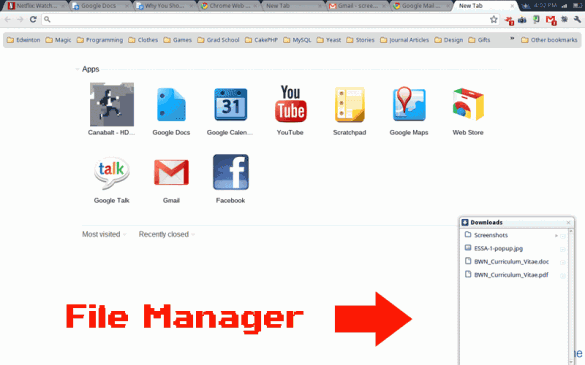 Another perk I've noticed with Chrome OS is how snappy things are. When you turn it on, a few seconds later you're at the login page. You close the lid, it's instantly asleep, and just as quickly it wakes. You plug in a USB mouse and there is no dialog about drivers — it just works! That seems to be the major theme with this OS.
The keyboard possesses some different features that make for a more user-friendly experience. There is no caps-lock; instead, there is a "search" button that when pressed brings up a fresh tab for your query. In addition, the keyboard has a "full screen" button to quickly rid yourself of distracting tabs at the top of the screen and increase your viewing area. Finally, there is a "change window" button that lets you quickly change between different sets of tabs. For example, if you open a boat load of tabs, many will be loaded outside of the viewable screen. Simply press the "change window" button to view them.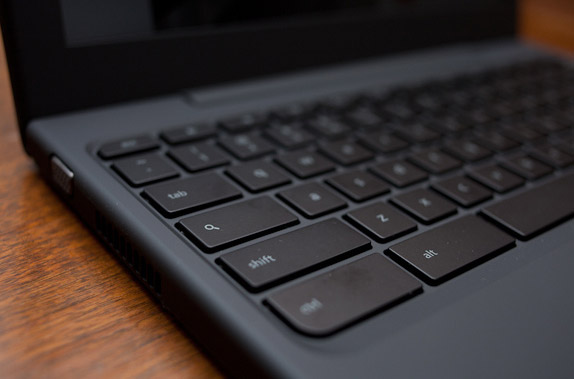 Conclusion
After using Chrome OS, I can honestly say I'm surprised by how well everything works. I expected to be reporting bugs to the Google team every day, and I've only reported two so far (a flickering screen at login and problems that are probably the fault of my University). I enjoy the streamlined experience that Chrome OS offers for mobile computing. There isn't much to fiddle around with, so I find myself much more efficient with my time on this netbook. Heck, I've even started using Google Docs with great success despite not being much of a fan until now.
If I had to state my biggest problem with Chrome OS, I would say that it is not yet capable of streaming movies from Netflix. I suspect this has something to do with Silverlight, a Microsoft technology similar to Adobe Flash, but Netflix is ensuring all Chrome OS users that the problem will be short-lived by saying:
We're working with Google to ensure that Chrome Notebook users can instantly watch TV shows and movies from Netflix."
Yeah, Netflix…but what do I do in the meantime? I don't think you've heard yet that we, as a generation, have come to expect certain things.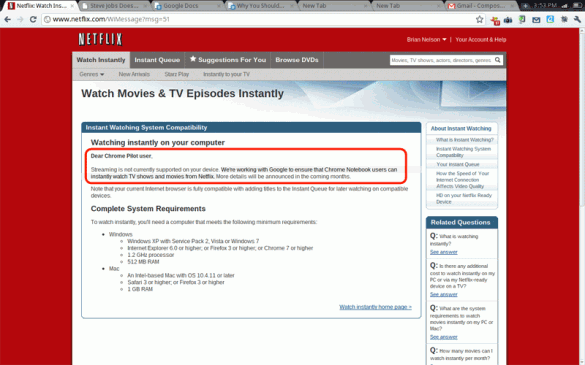 Overall, the Chrome OS has been a joy to use. The operating system of a computer should provide a platform for your software without intrusion, and that is just what Google has accomplished. The transition for Windows-based Chrome browsing to Chrome OS has been easy as pie, and I've seriously considered giving this netbook to my completely computer illiterate mother when I've finished thoroughly testing it. There simply isn't anything here that can confuse her or any other infrequent computer user.
Time will tell, but I think Google will burst onto the scene with great reviews when Chrome OS is released later this year. It's not for heavy computing, but that really isn't the point. People that use Chrome OS for the lightweight internet platform that it is intended to be will be impressed.