Written by about 100 full-time editors and more than 4,000 expert contributors, the Britannica Encyclopedia is regarded as the most scholarly of encyclopedias (it even beats out Wikipedia!).  This incredible gift to society has become mobile,  hitting the Android Market in a full and trial version.
Using the Britannica Concise Encyclopedia for Android for the last week and a half, I have to tell you, it is an amazing information tool to hold in the palm of your hand. Back in the day, you had to carry the whole mass of some 20 volumes of books in order to hold the knowledge you can now hold on your phone. Thanks to the developers at the Paragon Software Group, the Britannica Concise Encyclopedia for Android is one of the most useful phone applications I have ever had.
Sitting around the table, chatting with friends has given me multiple opportunities to utilize the Britannica Encyclopedia. A friend would ask what a certain group of people believed spiritually and I would offer my knowledge gained from the encyclopedia application. I was even able to do these searches in places where a data connection was not available because the entire application is stored offline right on my phone.
One of the greatest features in the application is the ability to not only search for whatever you are interested in, but it allows you to do even further research by allowing you to click on words that are used to explain what you are searching, and dig deeper into those words and their descriptions as well.
The only complaint I have is the search button on my phone was not bound to the search feature of the Britannica application. If it were, this would allow for quicker and easier searches instead of having to reach up to the top left and press the search button.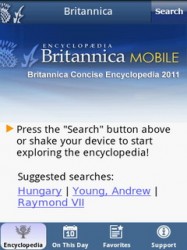 There isn't a lot to say about the application aside from how incredibly useful it is. In the time that I was able to spend with the Britannica Concise Encyclopedia, I found it quick, easy, and powerful. Never once did the application force close. If you are in search of knowledge about the human endeavor, a know-it-all and wanting to improve, or love to research, the $19.99 price tag on the Android market should not stop you. For everyone else, there is a free trial out there so give it a try!