One of Android's greatest advantages over its biggest competitor is its awesome support for multitasking right out of the box. Simply hold down the Home button for a few seconds to gain access to the eight most recently used applications on your device without ever leaving the currently running application.
But what do you do if the application you want isn't on that list? How will you tell your loyal Twitter followers what you're eating for lunch if you're in the middle of a game of Angry Birds? Thankfully, SwipePad has you covered.
SwipePad lets you designate an area of the screen to swipe to open a list of user defined application shortcuts. By default, you swipe from the far bottom left or bottom right of the screen towards the center. After a bit of practice to figure out where exactly you need to be swiping, it becomes second nature.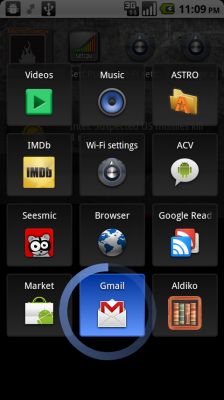 When you first start using SwipePad, the 12 shortcut locations will be blank. To assign an application to a location, just hover over that location until it turns orange and release. Be warned, however: the initial setup can take a long time if you have a lot of applications installed. When choosing an application, the list scrolls painfully slow and is prone to freeze. SwipePad is still technically in beta, so hopefully that issue gets ironed out soon.
SwipePad is a simple application, but there's still an options menu to poke around in, if you so desire. The most interesting entries let you change the swipe region and hide or show SwipePad's indicator icon in the status bar. I recommend leaving the icon visible, as it helps prevent the operating system from killing SwipePad.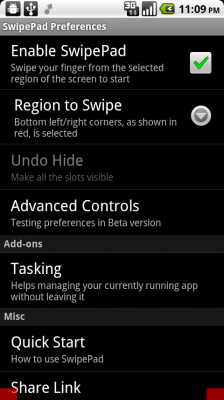 I've been using SwipePad for the past couple of weeks and can't find much to complain about. Other than the long setup process, SwipePad works exactly as advertised. Initially, I was worried about accidentally invoking SwipePad when I didn't mean to, but that hasn't happened yet (and even if it does, you can just change the swipe region to somewhere less invasive).
SwipePad is particularly useful if you're still running a phone with limited RAM, like me, and use a homescreen replacement app. Since the homescreen replacement has a tendency to get killed, having another way to access your most used applications is incredibly handy.
SwipePad can be found in the Android market, or by scanning the QR Code below.

Have you come across any other applications that leverage Android's multitasking power, or any interesting applications in general? Feel free to shoot us an e-mail at tips@techerator.com!