Do you love Android? I mean, like, really love Android to the point where you see that green little robot and go: "Squeee!!"?  I know I do.
As much as I like to keep my IRL mug a secret (pay no attention to the man behind the curtain), I always wished there would be some type of program or app easy enough to make my own little green guy (or girl, in this case) that looks like me. You know, just to spice up the ole profile pic and waste even more time on my phone.
That day has arrived. Today, Larva Labs (with the help of Google) released one of the easiest and coolest app since its slide screen home screen app on the Android Market. It's called Androidify. This free app lets you make your own Android bot avatar into anything you want.
Clothe it, add some fancy facial hair and a monocle and you've got Percival the Capitalist butler (courtesy of the wonderful Evan Wondrasek). Percival runs a railway, but also offers lunch service to Earl Fitzherbert.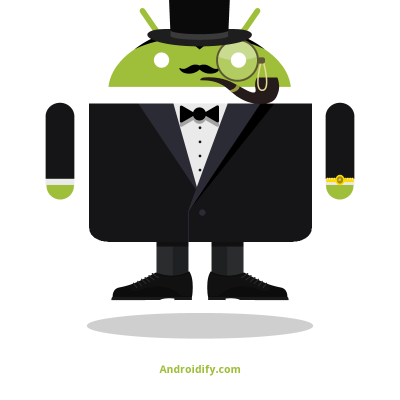 Busy parent on the go? This app's got a little baby Droid in a bjorn for mom or dad to attach to their front side.
Once you've made your Droid, it's easy to show other Droid enthusiasts (or non-enthusiasts) your work of art by sharing it via email, Twitter, Facebook, or setting it as a photo in your contact book…the options of sharing could possibly be limitless. After all, it's the Android we're talking about.
Don't have a Droid but want to see how the app works? Check out this nifty promo video:
httpvh://www.youtube.com/watch?v=irH3OSOskcE
Already downloaded the app and have a Droid to share? Upload it to a free service like min.us and post it below in the comments section. We'd love to see what you've created!