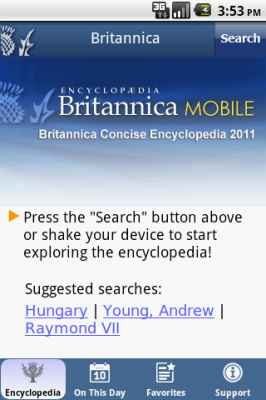 We all know how reliable Wikipedia can be for information, especially for term papers. And who goes to the library anymore to use encyclopedias? With technology and the way information flies faster than the speed of fiber optic, encyclopedias or any type of printed information is becoming increasingly obsolete. So what should you use for a secure, reputable information source?
Britannica Encyclopedia.
Now, hear me out here. Britannica, in its hay day, was THE most trusted source to get information from. As the years went on, Britannica became outdated and was too expensive to produce a completely new edition, not to mention its editors delayed the content for 25 years for fiscal sensibility. To stay competitive in today's market, Britannica is using its power house of information and bringing it to the mobile market.
Britannica paired up with Paragon Software Group to create Britannica Concise Encyclopedia 2011 (available in English and Spanish). Included is the latest content of the encyclopedia (no more holding content just to pinch pennies) with more than 10,000 additional entries, nearly 2,700 full-color maps and images, hyperlinked articles and easy to use search functions. Previously available for iOS devices, the new 2011 welcomes Android and BlackBerry devices to its compatibility family.
Stay tuned for our review of this app for the various devices soon. But if you're curious to see what it's all about now, you can download it now and get a special 33% discount, available through February 17 by using the promo code we've posted on Facebook and Twitter.
Happy researching!