I had long sought a good place to keep a list of all the books I've read or listened to. I originally used a service called Visual Bookshelf (now known as LivingSocial: Books) through Facebook, but I was looking for something cleaner and with better performance. Although LivingSocial: Books had basically every feature I wanted, the overall presentation was clunky and I frequently found myself waiting for pages to load.
After finishing up the weighty tome Atlas Shrugged last week, I decided to put a little more effort into locating a better service. I discovered Goodreads after a little looking, and immediately set to work building my virtual library.
Getting Started with Goodreads
Goodreads was founded in 2006, so it isn't one of the typical fresh-from-the-box startups we see so often nowadays. Goodreads is also privately owned, which makes me feel a little better about storing my information on the site (the previous service I used was notably involved in many unrelated ventures).
Since I had already established my reading history on a different service, I exported my library from that site as a .csv file and imported it to Goodreads with their simple import/export tool. Goodreads did a good job of importing my previous titles and soon my library was brimming with the books I had conquered.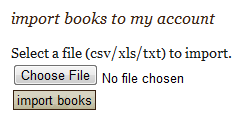 Goodreads also allows you to import books from Amazon wish lists, and if all else fails you can search their massive library of 78,000,000 books.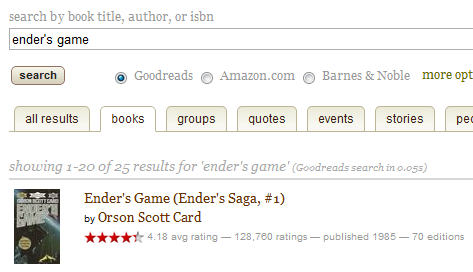 Your Library
After locating a book you've read (or plan to read), click the Add to My Books button next to its listing to add it to your personal library. When you click this button, you'll have the option to select whether you have already read the book, are currently reading it, or plan to read it in the future.



If you've linked any social networks to your Goodreads account, you can publish status updates to them with the book title, your rating, and your personal review of the book. You can also include your update in the Goodreads update feed, which any of your friends on the service will see on their home page (like the Facebook News Feed).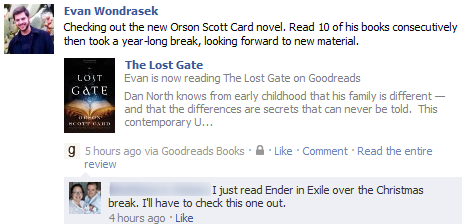 From the My Books page, you can see the entire list of books you've read. Here you can add ratings, add or remove titles, and categorize your collections.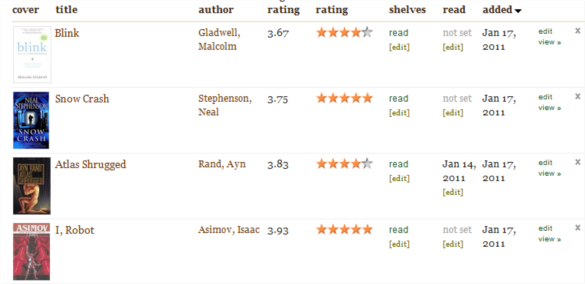 By default, Goodreads has three categories which are known as "bookshelves": read, currently-reading, and to-read. If you want to be more specific with your categorization, click the Add Shelf link below these categories to create your own. You can create bookshelves for specific authors, genres, or even for specific people you think would enjoy the book as a recommendation.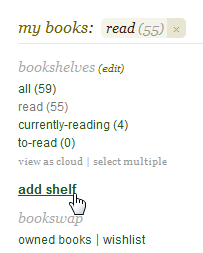 Share with your Friends
Adding your friends on Goodreads will give you a better experience by letting you read and share reviews. I used the built-in Gmail, Facebook, and Twitter search tools to quickly add a few of my social networking friends.
When browsing book listings, your friends ratings and reviews will show up right below the book's description.
If your friends have elected to share their updates with you, you can post snarky comments to your heart's delight.

One of my favorite features about Goodreads' friend system is the ability to compare books. When viewing a friend's profile, click the Compare Books link to see list of books you've both read, your respective ratings, and how much you have in common with that person's reading habits.
Following your Favorite Authors
Besides following your friends, you can also become a fan of your favorite authors to receive updates and see what books they are reading. Many popular authors have accounts on Goodreads, and even the ones that don't have personal accounts still have author pages where you can become a fan to publicly display your allegiance.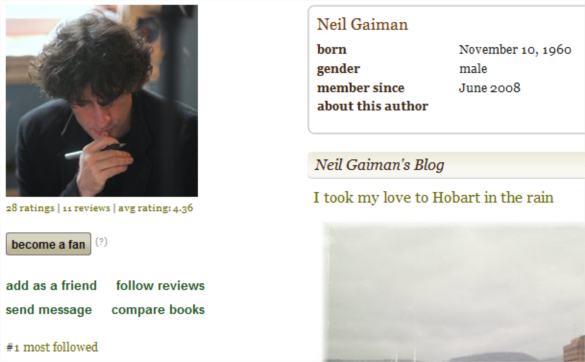 After becoming a fan of an author, a special Favorite Authors field will be displayed on your profile with a brief list of your selections.

Additional Features
If you have a personal website or blog, Goodreads offers some attractive widgets to show off your various collections to your viewers. You can even add Amazon referral links to the book links to earn money through Amazon's affiliate program. This was a huge surprise to me as I've become accustomed to sites making money off of me, not for me.
You can check out one of the widgets in action on the sidebar of my Tumblr blog.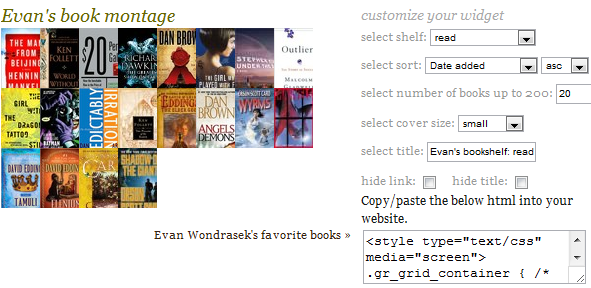 For a little entertainment, check out the Never-Ending Book Quiz. As its name implies, this game offers a non-stop supply of trivia questions regarding popular books. Your results are stored online so you can compare (and compete) with friends.
Goodreads has a lot of features that I didn't cover in this guide, so take some time to play around with the site. After adding my friends to the site, I was excited to see that reading is still alive and well, and I'm looking forward to discovering new and interesting books through their recommendations.