How's that for alliteration?
When Microsoft first unveiled their Surface technology in 2007, I was impressed with the possibilities that could be had when combining advanced displays with accurate, multi-touch optical recognition. Their original product combined a 30" display with a series of cameras to establish the position of inputs (like your hands), which produced beautiful results but needed bulky hardware.
This is a demo of the original Microsoft Surface at CES 2008.
Last night at CES 2011, Microsoft CEO Steve Ballmer and VP Michael Angiulo announced Surface 2.0, which is being built by Samsung and is only 4″ thick.  Using a technology called "PixelSense", the Surface display can "see" inputs like your hands using infrared cameras built into the display's pixels, which accounts for its sleeker design.
Using the new infrared technology, Michael Angiulo demonstrated that he could take a piece of paper with the handwritten message "I CAN SEE", place it on the screen, and the device could clearly see the text as well (the infrared view from the device is shown in the bottom right).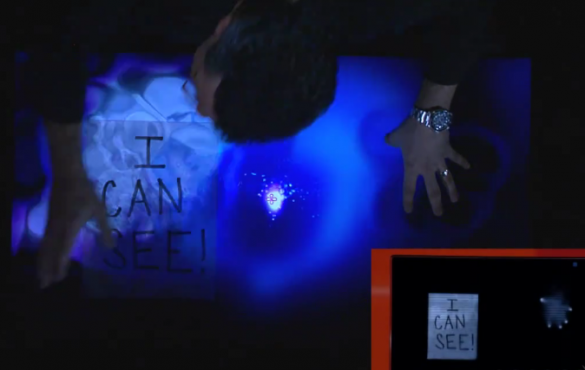 Check out the full demonstration of Surface 2.0 below:
There are plenty of exciting possibilities for Surface 2.0, but you know what I'm most excited about? Games.
Settlers of Catan on Microsoft Surface
Dungeons and Dragons on Microsoft Surface
It's fun living in the future.
Oh, and if you were thinking about buying a Surface 2.0, the planned retail price will be $7,600, although that's a lot better than the $12,000+ of the original Surface. If you want to go the cheaper route you can build your own Surface (albeit the old-school Surface 1.0 model).