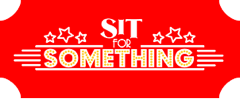 When Jeremy Haberman left home to run a few errands with his family on another brisk Lake Nokomis morning, he wasn't expecting another cause-related 5-kilometer walk and run to cross his path. His normal route was closed yet again. Frustrated, Haberman said to his wife, "You know what I'm going to do?  I'm going to get people to pledge money for me to just sit on our couch and watch movies."
Months later, Haberman registered for Startup Weekend Twin Cities at the University of Minnesota's Carlson School of Management. "I completely forgot about my idea. It had been lying dormant and my tiny rant came back to mind when I was developing a pitch for Startup Weekend." But sitting alone on a couch didn't foster the sense of community you find at run- and walk-a-thons, and it wasn't nearly as fun.  With help from family and friends, Haberman developed the idea of holding fundraisers at movie theaters, in essence, sitting for something.  He pitched the idea at Startup Weekend and, with help from a team of believers, it became a reality.
Together they founded Sit for Something, a social venture built to provide a fun alternative to boring, bland fundraisers. Sit for Something focused on one of the major issues of 2010: education. Haberman and his team thought about their experiences of parents and kids peddling candy bars and magazines and wanted to change the dynamic. "Kids don't want to sell this junk," said Haberman.  "Nobody wants to buy it, and parents are often left to foot the bill. Sit for Something had a better idea: using movie theaters to raise money for education.
Sit for Something's first fundraiser will appeal to rock 'n' roll and education fans alike. On Tuesday, February 15 at 7 p.m. in the historic St. Anthony Main Theater, a showing of It Might Get Loud, a guitar documentary featuring Jack White, Jimmy Page and The Edge, will benefit the School of Rock Minnesota Scholarship Fund, allowing young low-income aspiring musicians to pursue their dreams. Tickets are $12 in advance, or $15 at the door. Spots are limited and can be reserved at sitforsomething.org/schoolofrock.
Sit for Something is now forming partnerships with Minnesota-based educational groups where they form a collaborative effort to advance learning opportunities for youth. For more information visit sitforsomething.org.