Last year, I decided to get a new smartphone. I switched from being a Blackberry addict (with a Blackberry Storm, which is a horrible, glitchy phone might I add) to being an Android fan, purchasing the Motorola Droid.
Since then, I've scoured the Android Market for the most useful and enjoyable apps available. All of the apps found in this guide can be downloaded from the Android Market, and the majority of them for free.
Social Networking Apps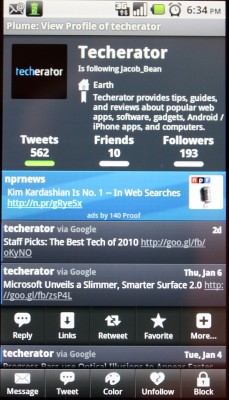 Plume
I'm pretty much in love with Twitter.  I like it for a number of reasons: Twitter is great for random thoughts, it seems more acceptable to update Twitter every few hours (or minutes) than Facebook, I can be a little more liberal with what I say on Twitter than Facebook (don't have family following me on Twitter), and I can keep updated with friends, news, and celebrities.
I've tried so many Twitter apps it's ridiculous. None of them have even come close to Plume (formerly known as Touiteur, but renamed at Twitter's request due to name similarity).
This app is beautifully designed and highly customizable. With Plume you can add multiple Twitter accounts and switch among them easily. You can compose a tweet by dragging the Plume bar at the top of the screen down with the flick of your finger. There is also the option to attach a photo (by uploading from gallery, taking a picture, etc.) and shrinking the tweet (available only with the premium version).
By tapping on a tweet, a menu bar pops down with options that allows you to reply, follow any links, retweet, favorite and more (this option includes showing profile of tweeter,  direct messaging tweeter, sharing tweet, copying tweet to clipboard, and marking tweet as spam). On the bottom of the page, you can easily select between tweets, mentions, direct messages, more (includes new tweet, search, lists, trends, and favorites), and refresh the twitter timeline.
Plume is well-organized, sleek, and allows for color coding of tweets (which comes in handy with multiple accounts). The app also alerts you with a bird tweeting/chirp sound and vibrates when you are mentioned in a tweet or have a direct message.
Overall, it's a great app for those that love Twitter!
An ad-supported version is available for free, and a premium version for just $2.57.  If you use Twitter a lot, I would recommend purchasing the premium version because there are no ads on your timeline and it allows you to shrink tweets, among other features.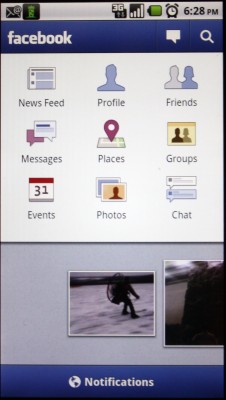 Facebook
I'm a big fan of Facebook, but I really hated the Facebook app for Android until they updated it in early November. Some of the new features they added were Facebook Places, Inbox, Facebook Chat and new a layout. The way you receive notifications was also updated.
Instead of being redirected to the mobile web version of Facebook every time you clicked on a notification, now you are redirected to the app. It makes everything a lot easier and faster. You can now view posts, comments, photos, and shared links right through the app, instead of being redirected.
The app could still use some improvement, especially regarding creating and managing events through the app. But it's a grand improvement from the previous Facebook app for Android.
YouTube
Another app that I use a LOT is YouTube. Like Facebook, this app was also updated in the beginning of November in a pretty big way.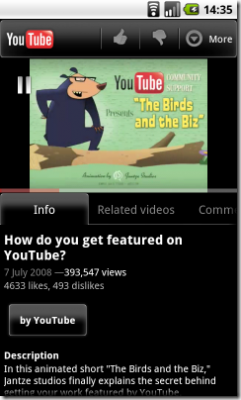 One of the biggest changes in the app was the new user interface.When watching a video in portrait mode, you can play a smaller version of the video while viewing information, comments, and related videos. In landscape mode, the video plays full screen with a circle tab that you can grab and slide with your fingers in order to rewind and forward the video. You can also pause and play the video by tapping your finger on the screen.
Another addition is a personalized home screen when you open the app, displaying your video subscriptions.
Video also seems to play faster and without as many lags and bugs that was present in the previous version.
I use this app all the time to watch movie trailers, listen to music, or watch tutorials (like how to tie a tie). If you have an Android phone, the YouTube app is must have.
Backgrounds
I'm the type of person that gets bored easily, especially with the background on my phone.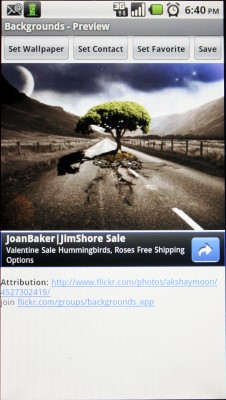 Backgrounds is one of my favorite apps because it allows me to easily browse through over 8,000 pictures and designs and then easily set it as my background. Backgrounds are added daily and in addition to being searched by popular and recent, you can search via 50 categories including funny, animals, movies, and holidays. The pictures and designs can also be set as contact pictures and favorites.
I also use it along with social networking sites because the images can be saved to your SD card for later use or to share via Facebook and Twitter.
The best thing about this app is that it's completely free!
Games
I'm not a huge gamer – but when I'm bored sitting in class, an airport, or long car ride, I like something to keep me busy and the following games do just that.
Angry Birds
Angry Birds is a game that uses the touch screen interface with simple controls, cartoon graphics and physics. The game is based on the story of a few hungry pigs that steal some eggs from a pack of birds – who then start a journey to take revenge.
The birds sit in a sling shot and shoot themselves at the pigs, who are hiding in different protective forts made of glass, wood, stone, and other materials. As the game progresses there are different birds introduced that have special abilities, such as the miniature blue birds that when tapped break into three birds. Other birds possess the special abilities of head-butting, accelerating, droppings egg bombs, boomerangs, and extra strength.
You rack up points by breaking the materials that structurally makeup the forts as well as destroying the pigs. In order to progress to the next level, you must kill all the pigs. The scoring comes into play when it rates you from one to three stars. The goal is to perfect your aim in order to get three stars on each level.  The game is a really fun puzzle that takes multiple tries to advance levels. You must aim just perfect!
There is also a spin-off game called Angry Birds Seasons – which is the same game but based on a Halloween and Christmas theme.
The game is actually so popular that Mattel is adapting it into a board game. There are also rumors that it will soon be turned into a TV show. Talk about milking a franchise…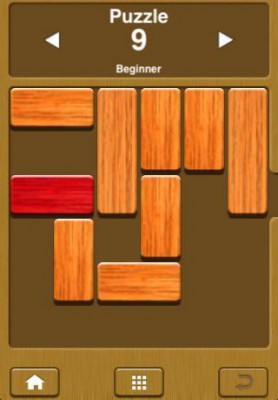 Unblock Me: Free
Unblock Me: Free is a very simple puzzle game that is easy to learn and play – it's also easy to become addicted.
All you have to do is move the red block from its current location through the exit on the right of the screen. Before you can move it through the exit, you must first clear a path by moving horizontal and vertical blocks out its way.  Some are easy, some are hard, and some will drive you crazy! You can play the game in two modes: Relax and Challenge.
With the free version you get 400 levels (that you can play as many times as you want), where as the paid version has 800. With 400 free levels, what's the point in buying the game? Since the game is a puzzle, and the graphics never change, you might not remember how to beat a level after you've beat it. 400 levels is a generous quantity for a free version.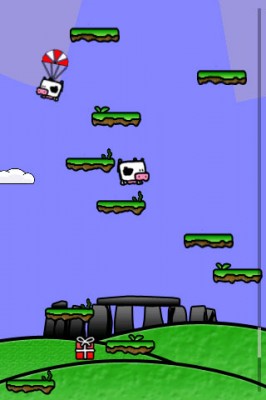 Abduction
Abduction is really cool because it utilizes the phone's accelerometer. Basically, you have to make a cow jump up numerous platforms until it's abducted by aliens. You do this by simply tilting the phone left to right. On your way up to your abduction you can obtain bonus points and the chance to hit parachuting cows giving you extra abilities, such as high jumps, safety nets, and sometimes not such extra abilities with crumbles.  The high jumps allow you to jump twice as high, the safety nets save you if you fall, and the crumbles are platforms that only last one jump.
The game is fun and addicting. The graphics are cute. The accelerometer is what really adds to the game by making it more interactive.
There is a free demo version and a premium version for $2.10.
What are some of your favorite social networking apps and games for Android? Let us know in the comments section below!