With the New Year just around the corner, saving money seems to be on the minds of many people. Being a graduate student, I am not among these people, because Academia pays huge sums of money for almost zero work.
Let's be serious, I'm broke, and I need to save some dough.  New Years is just the time to start padding my savings account and cutting my costs.
I had an interesting conversation recently with my friend Brianna that went something like this…
Brian: "Bri, buy me pizza."
Brianna: "Buy it yourself."
Brian:  "I can't. I don't have any money."
I think this exchange goes a long way in describing my need to slash some expenses. I spent the rest of my evening making a plan for January 1st that will dig me out of my financial sinkhole. The only rule is that I don't want to live like a monk—I need some entertainment and, of course, Internet access.
So where do I plan to make the cuts? *Straps on helmet* Come with me.
1.  Choose your connection—Mobile Device vs. Cable Internet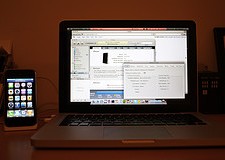 At the moment I have a cell phone with Internet access as well as high-speed cable Internet access in my apartment. I've got to face the facts…I can't afford both. Your situation may differ, but I personally don't use my mobile device for much other than convenient email and the occasional Tweet, so my choice is obvious, sack the data plan on my phone.
However, if you're the kind of person that doesn't need super bandwidth at home, you may opt for a data plan that allows you to tether your computer and phone. There's a swanky deal that will save you $40 or better. In my case, by shedding the data plan on my mobile device (and downgrading my anytime minutes), I'll be saving $45. Cha-ching.
Worried about losing your ability to text? Fear not. Gmail and Google Voice allow you to SMS your contacts from your PC.
Pro-tip:  If you require mobile device Internet and Email access for work, ask your employer if they would be receptive to a co-pay plan. Some of my friends have had success with this.
2.  Choose your entertainment

Entertainment overload can be surprisingly stressful.  I have an Xbox Live subscription, Netflix, an enhanced Cable package, and I've been toying with the notion of Hulu Plus. Seriously, there aren't enough hours in the day to enjoy each of these in the way the creators intended, so why cut yourself short?
I have a pile of Xbox 360 games still in the cellophane (including Dragon Age, ARGH!) so there is no question that I'll be ditching my Live subscription. With all the free TV and movies available on Hulu and Netflix, is there really any reason for me to have enhanced Cable that I don't watch?
By dropping Xbox Live and ditching my cable package (aside from internet), I'll be saving $41 per month. Huzzah!
3.  Join a food co-op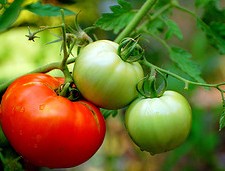 After looking over my monthly expenses, I was shocked to see how much I spent on food. Between going out to eat and spending a small fortune at my local coffee house, my monthly food bill was approaching $450 each month.
I wept. I swore. I found an alternative.
Local food co-ops will help you pinch your pennies by providing you with a place to buy bulk commodities, such as grains, rice, soup mix, and basically any other dry food you can imagine. Bring your own container and taste the savings. Better yet, many co-ops offer year-round selections of local produce, such as tomatoes, potatoes, cucumbers, and so on. You know what that means? You'll be forced to be healthier and more attractive as you save money. The nerve of these people.
Most co-op purchased fruits and vegetables are organic. Organic?! Khaaaaaaaaaaaaaaaaaaaaaaan!!
The co-op in my city costs $100 to join, but it is a fee that will be refunded when you leave the co-op. Plus, it gives you part ownership of the co-op. Pretty good deal. Aside from the initial cost, my new carefully planned food budget has slashed my culinary deviance by $150. Yeah, that's right. You don't like that–do ya, gut?
4.  Park the car. Leave it parked.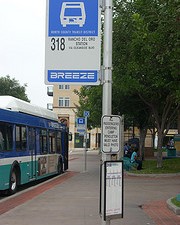 I drive too much. You drive too much. We as Americans (and some Europeans) drive too much.
We pay tax dollars to support a public transit system that we almost never use. At the moment I spend $75 on gas each month (3 tanks). As a student, I get free access to all city buses. Also, during the summer I'll be riding my bike and hopefully getting some sun on this dreadfully pasty skin of mine.
My goal is to cut out one tank of gas each month, and I think that's very conservative–a savings of at least $25 each month. Bazinga!
Pro-tip: Driving less will save on regular car maintenance, like oil changes. On a related note, don't be tempted to skimp on car maintenance, as you already know deep down that it will bite you in the ass eventually.
5.  Save power AND quarters—a laundry tip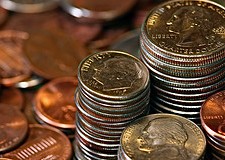 Some people may think this is silly, but take a second and think about your laundry. How many loads do you do in a month? How much electricity does it eat up to dry them? Or worse—how many quarters?
My parents recently purchased a drying rack to accompany their washer, and between the two of them, they save $6 each month on electricity. Pretty cool! I did some thinking and realized that I probably spend more than that each month in quarters drying my clothes at the laundromat. For shame!
A friend was quick to inform me that letting your clothes hang dry is a good way to increase their lifespan. That's $6 per month in savings, and probably more. Let it rain!
6.  Ice those credit cards and make a friggin' budget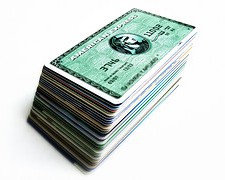 We've been hearing this forever, but few of us actually do it. The average American has over $8,000 in credit card debt with an average APR of 14.4%. No need to bust out those calculators, that's over $1100 that we hand over each year…
Studies have shown that people who stick to a monthly budget and limit their credit card usage usually pay off their credit card debt within 18 months. Are you up for the challenge? I am, because I'm tired of paying for Citi-branded Corvettes.
Head over to Google Docs and grab some of their pre-made Budget templates and tailor it to your own expenses. Then, set up an account at Mint to closely monitor your spending and upcoming bills. We can't fail, amigo.
As an average American, a clean credit card balance means a savings of $96 per month. Bonzai!
Conclusion
If I follow my plan closely, I'll be saving $363 each month. That's $4356 in a year! My friends, that's a lot of cheddar. What could you do with that kind of cash? A mattress of dollar bills, perhaps?
With a little discipline, the savings from these small lifestyle adjustments will alter the course of my 'pizza' conversation by this same time next year.
Brian: "Bri, buy me pizza. Psych! I'll buy it myself…With real money. And guess what—you don't get any. Ok, you can have ONE PIECE…but I get to choose the toppings. And I'm taking the toppings off your piece."
Sorry, Bri, the wealthier Brian is insufferable.
Happy savings, and happy holidays, everybody.