[ad name="Nook Color1″]
The market for small tablets and digital book readers can be fierce in its own ways.  The Nook Color from Barnes & Noble is a combination of these two devices – being an eReader and an Android tablet – but it doesn't quite excel at either.
I am not a big book reader. I do, however, love magazines and web browsing. The Nook Color is a great multi-function device for both web and reading. The lack of an app store is a shame, but I hope to see one soon from Barnes & Noble.
The Nook Color is a good fit for me because I enjoy magazines (especially color images in magazines), which of course can't be done on the black-and-white Amazon Kindle. To be fair, the Kindle can also handle magazines, just not in full color.
Is the Nook Color an Apple iPad killer? No! Is it a Kindle killer? That will depend on what you want to use it for.
Hardware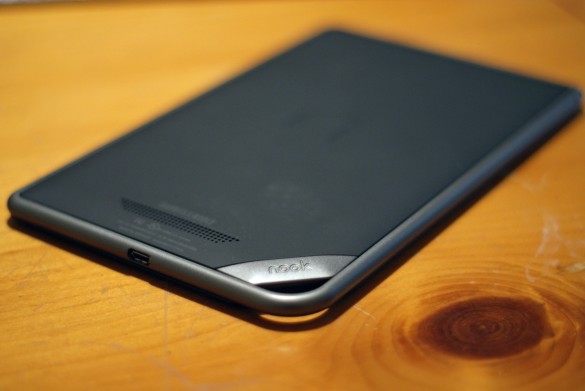 The device feels very solid and is built of high quality materials. The Nook Color is much heavier than the original Nook, but the heft is easily made up for with its ability to do more than just read.  The screen is glass and the back has a soft rubber texture that is both pleasing to hold and lends to good grip.
Display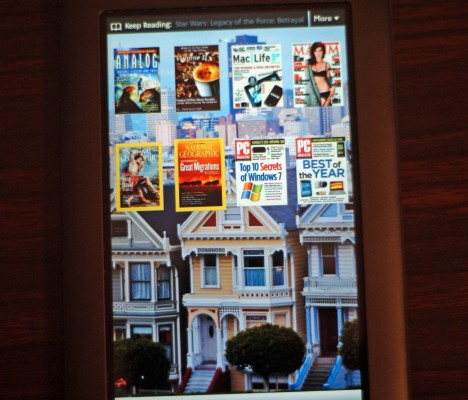 The Nook Color's touchscreen measures 7 inches diagonally and has a 1024×600 resolution (similar to a standard netbook). The touch is responsive at times and slow at others. The sensitivity issues seem to come from when my hands or the Nook is cold. At times it can seem unresponsive, which may be caused by the operating system slowing down under load.
Multi-touch is typically available in magazines and on the home screen for resizing the icons. Where it falls short is in the web browser. We have all become so accustomed to pinch-zooming in touch screen browsers, but the Nook browser uses a tap-to-zoom system that is not precise.
Audio
The built-in speaker is good, but not great. I personally have not heard the Galaxy Tab (Android Tablet) or an iPad to compare it to, but I have heard many Android phones and iPod Touches. The Nook Color has much better speakers than the iPod Touch, but not as good as the phones I have heard.
The headphone jack doesn't seem to hold very well and I had trouble with my headphones becoming partially unplugged, causing the sound to switch back to its external speaker. I don't think most people will listen to music on the Nook, even though it has a music player app and Pandora.
Battery
Battery life seems good so far. Barnes & Noble claims it will last 8 hours, and after my first weekend with it I'd say it can do that and longer. I charged my Nook on Tuesday night and was playing with it enough to consider it heavy use (with WiFi off and with the brightness at a reasonable level) and I did not have to charge until Friday afternoon.
Storage
The Nook Color has 8 GB of internal storage, but you only have access to 5 GB of it. The option to add a micro SD card is a nice touch for adding files and pictures of your own. From the library feature you can manage files put onto the device.
The Nook Color can read Microsoft documents and PDF files. I have not discovered if one can edit the documents yet. It's a nice feature that may or may not serve your use.
Software & Operating System
Nook Color runs on an Android platform that is highly customized by Barnes & Noble. The Nook Color runs Android 2.1 VS 1.5 which also came with the original Nook. The Nook Color is speculated to be receiving Android 2.2 this January. As with all custom operating systems, it is tightly controlled by the creators.
The web browser is nice for both full and mobile sites. However, the pinch-to-zoom feature that many have grown used to over the years is not available in the Nook. The keyboard is good in portrait mode, but is too wide in landscape to use with thumbs.  The music player is not as intuitive as the native Android music player and will run simultaneously with Pandora.
Having an app for Pandora is very cool, but it is the only third-party software available on the Nook Color so far. Some free games such as chess, Sudoku, and crossword puzzles come pre-installed with the Nook Color. Nook also has the ability to link with your Facebook, Twitter, and Google contacts for social reading and the LendMe feature.
Store
The Barnes & Noble store on the Nook Color is smooth, fast, and easy to use. You can easily search for books, magazines, and newspapers. From the store you can read a review, see recommendations, and download samples. Some books are also capable of being loaned to and from friends for 15 days. Nook, along with other ePub readers, are capable of checking books out from libraries for a short time.
Your book collection can be managed from bn.com where you can buy and send books to the device from the computer. Books can also be deleted and returned from the internet.
Reading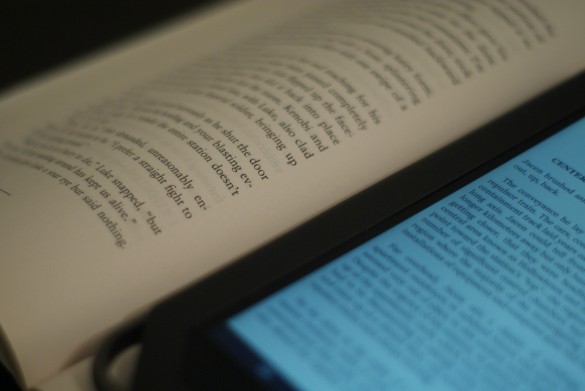 The (obvious) primary function of the Nook is the ability to read books. With such a bright display, pictures, magazines, and children's books are stunningly bright and wonderful to read. Books look great and the text is sharp and clear.
The display brightness can be changed to best fit the reading environment like at night when bright lights can be strenuous to the eyes. Reading in sunlight may be an issue, though, with its high-gloss screen which is definitely where the Kindle and original Nook do better.
Check out more pictures of the Barnes & Noble Nook Color below.
[nggallery id=11]