Do you have a skier or snowboarder on your Christmas list, but have no idea what it means to shred the gnar or hit the deep pow? Worry not, because buying them anything on this list is sure to give them the same tingly feeling as making first tracks on virgin snow (it's a good thing, trust me).
The GoPro HD helmet cam is an indestructible, waterproof, go-anywhere-do-anything kind of camera.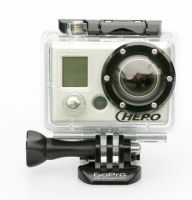 The tiny size of it is nothing to scoff at. This baby does 1080i recording @ 30fps for beautiful HD and 720p @ 60 fps for silky smooth slow motion. It also records at 720p @ 30fps and a 4:3 aspect 960p @ 30fps.
The GoPro HD comes with a wide assortment of mounts to attach to helmets, boards, chest mounts, wrist straps and more, making it incredibly versatile. The battery lasts 2.5 hours and there are settings other than typical record video. You can take still shots with it if you want. The GoPro HD has a 5MP sensor, but no display screen or viewfinder. Also there is an option to have the camera take a picture every few seconds or minutes.
I've owned one of these for a little over a year and have been very surprised what has been packed into such a small casing.
For some more information check out their website, and you can buy the GoPro HD Hero and an assortment of mounts and accessories at Amazon.com.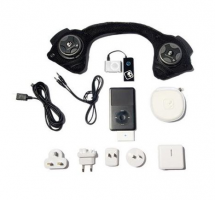 Helmets are good. They allow me to do stupid things without having to worry so much about dying.
What they don't do, however, is allow me to comfortably listen to music or use my phone. Smith and Skullcandy have collaborated to make a product that fixes this problem (the music, not my affinity for stupidity on the slopes).
Skullcandy, the headphone maker, has developed a system that integrates with any Bombshell Construction, Smith Optics helmet. This system allows you to hook your music player AND phone to a blue tooth transmitter that sends signal to the wireless headphones made to snap into the helmet. Mitten friendly large buttons on the headphones make it a snap to switch between your music player and phone.
The helmet and audio system are sold separately.
If you're a serious border/skier you need a good bag. What you put in that bag is up to you. It could be some munchies for a mid day snack, different colored lenses for changing light conditions, or some extra layers in case weather takes a turn for the worse.
If that's all you want to throw in there, go ahead and buy any bag.
But, if you want to carry all that plus a camera in a waterproof, fleece lined dedicated pocket; a bottle of water in an insulated, deployable water bottle pocket; have snowboard and ski carry; 1200 cubic inches of storage; and a quick draw sleeve for you ice axes you need the DaKine Heli Pro DLX 20L.
If you want to look fly doing it, I recommend the CHECKS or HOMBRE color options.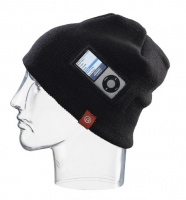 If you're not looking to drop about $300 on a Skullycandy Bombshell Audio Kit, but think your winter enthusiast could use some music in their life, check out the headgear offered by iThreeSixty.
iThreeSixty apparel works by creating a neoprene, moisture-proof pocket for your iPod or mp3 player. In that pocket is a headphone jack that connects to two speakers integrated into the hat or headband. Plug it in, push play and you have music without having to run annoying wires and headphones inside your coat.
iThreeSixty apparel works with all the iPod Nanos except 3rd generation. Other MP3 players may fit, make sure and check out the website if you have something different. Overall it's a very cost effective way to get some music without having to mess with headphones and coat pockets.
Check out their website, or pick one up at Amazon.com.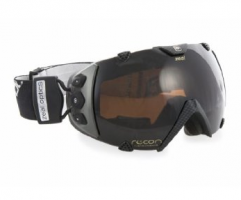 Does the snowboarder/skier in your life think they have everything? Is every piece of equipment they own the cream of the crop, and do they insist they cannot be done one better? If so, and if you have $500 to spend to prove them wrong, I will go as far as to guarantee they do not own a pair of these goggles.
Lets run down a list of features, yes, features… for goggles.
Auto color adjusting lenses for changing light conditions (adjusts from light yellow to dark amber)
A heads-up display that shows you your current speed and altitude, and odometer for distance traveled, stopwatch, outside temperature, oh and a clock.
Did I mention all of this information is viewable in real time?
Check out their website for more information.
Conclusion
There's my list – from the affordable to the ridiculous, there is something there every winter enthusiast would enjoy.
Images courtesy of Amazon.com & DaKine.com Special thanks to Nick Danforth for helping me put this list together.