Skype just got a lot more social!
Since mid-Summer, Skype 5.0 Beta has been available, but this past week they rolled out the full version, jam-packed with new features, updates, and a slick new user interface that wasn't available in the recent beta.
Probably some of the biggest and most talked about features within the new Skype 5.0 is the 10-way video calling, which is an improvement from the 5-way video calling within the beta, and its integration with Facebook.
Unless you have been living under a rock for the past few years, you more than likely have a Facebook account or have at least heard of Facebook. The social network giant unveiled "Facebook Connect" a few months back, which allows third party websites to access the Facebook platform by connecting and building it into their sites.
Have you ever been to a website and seen a link that says "Sign in with Facebook"? That's Facebook Connect, a wonderful tool that saves us time by not having to sign in with numerous accounts and remember them – instead we can just sign in through our Facebook accounts. Now Skype has jumped on the bandwagon and have done an overhaul by integrating Facebook within their 5.0 version.
In order to utilize Facebook within Skype, you have to either update your current version of Skype to the 5.0 version or download it for the first time. This can be done through their website at www.skype.com.
Once you download Skype, sign in or create an account, click on the home tab.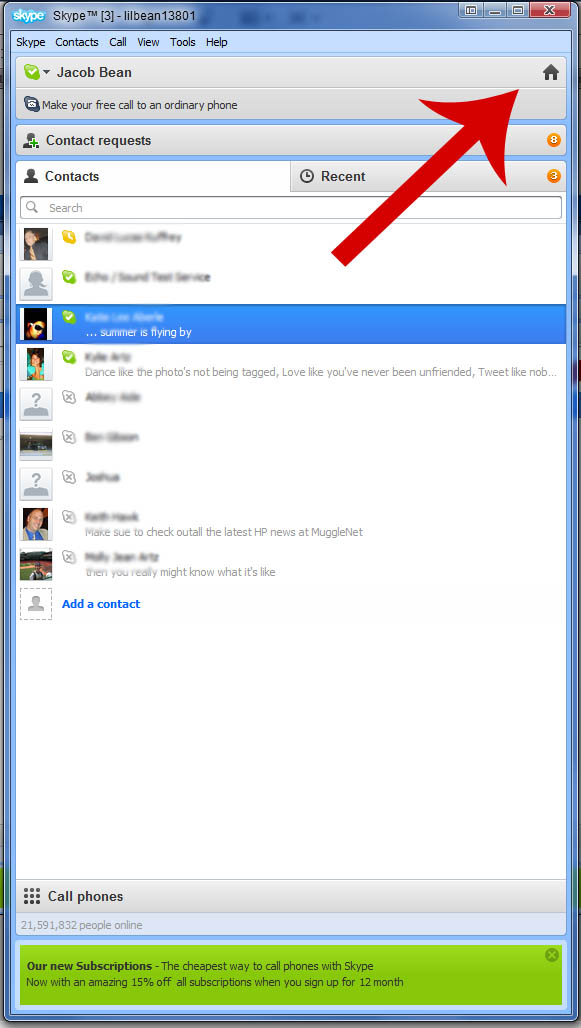 Once you click the home tab, the Skype Home Window will open. This is where you will be able to edit your profile and connect to Facebook. Click the Facebook tab to open the "Facebook Connect" dialog box.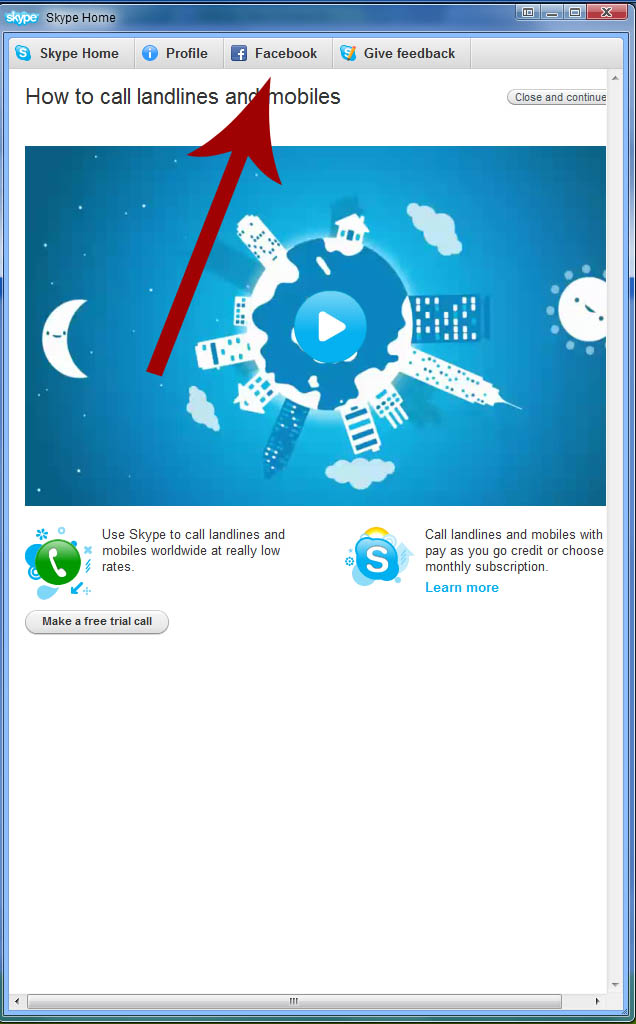 Sign into Facebook and then click "allow" on the bottom right of the window.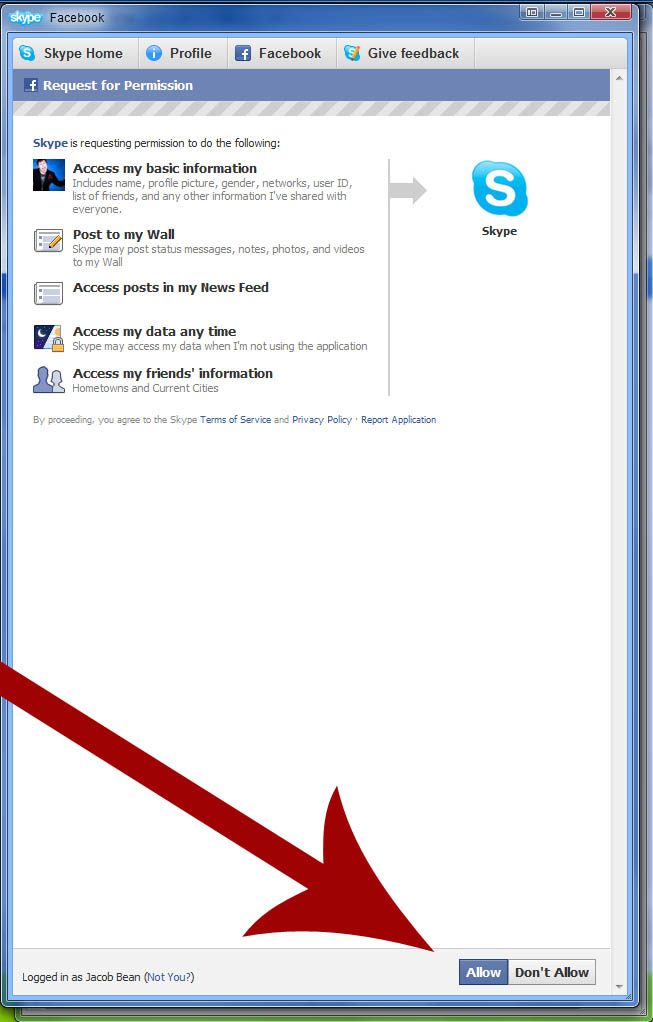 You will notice that your news feed shows up in Skype almost identical to your news feed in Facebook (you can even update your status), but with a few additions. There are now "SMS" and "call" buttons next to the posts of your friends. With these you can call and text your friends right through Skype. For these to work, however, your friends have to have their numbers listed in the info section on their Facebook profiles and you must have Skype credit (I guess Skype has to make their money somehow).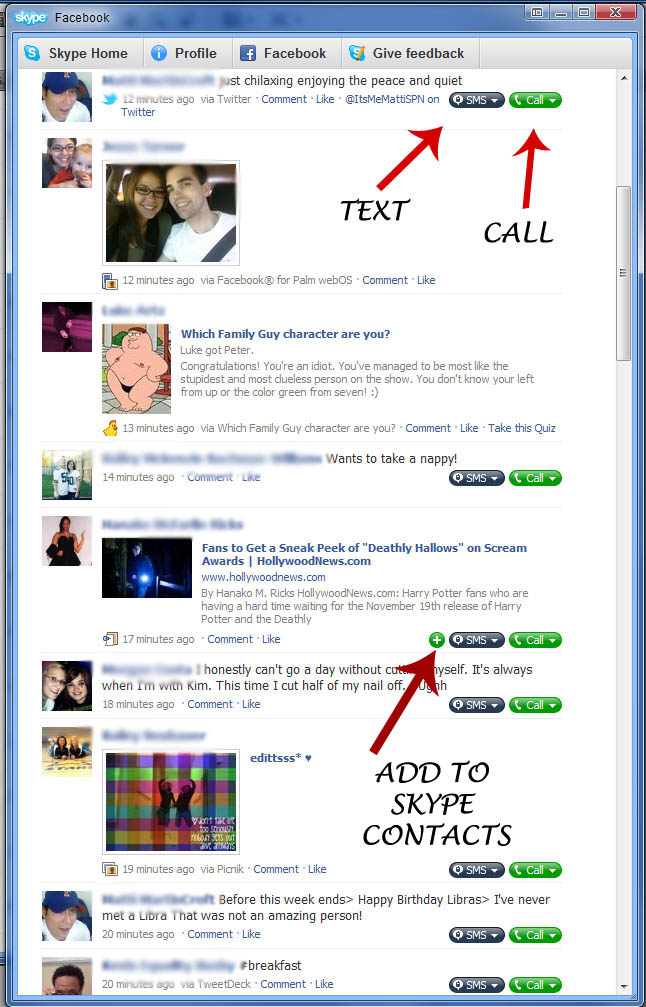 Skype has also integrated a Facebook Contact Book that shows a listing of all of your Facebook friends with their contact information.
Another neat feature within the Facebook integration is the ease of adding contacts to Skype from Facebook. The way it works is if someone has a Skype account registered with the same email account that is registered with Facebook, you will see a little green button with a white plus sign next to their statuses. By clicking that button, you will be able to add them to your contacts on Skype directly from the Facebook integration. The best thing about this is that you may not know that your Facebook friends are on Skype, but now you can Skype-to-Skype call them with one button (Skype-to-Skype calling, with or without video, is free!).
Some people may be confused about what costs money and what doesn't on Skype, so let me clear up some of the confusion. What costs money is when you want to call someone on their cell phone or landline using Skype. In order to do that you must buy Skype Credit. While some may frown on having to pay, their rates are ridiculously cheap at 2.3 cents a minute and even cheaper (0.9 cents/min) with the purchase of a monthly-subscription.

You may also want to look into downloading SkypeMobile on your smart phones for free. SkypeMobile features free Skype-to-Skype call and IM (with Verizon), Skype remains on all the time so that you can receive calls at any time, and most notably Skype-to-Skype, IM and global calls don't use up any of your wireless plan minutes.

If you don't have a smart phone (Skype runs on Android, iPhone, Blackberry, and a few other smart phone platforms) and can't download SkypeMobile, check out Skype To Go. For more information on SkypeMobile or Skye To Go, check out this link.
Version 5.0, in addition to the awesomeness of Facebook integration, features some pretty wicked features such as a much simpler user interface, addition of photos to Skype contact lists (which should help in searching for people), a home dashboard with a feed of your contacts mood and statuses, as well as tutorials on using Skype and the myriad of features available.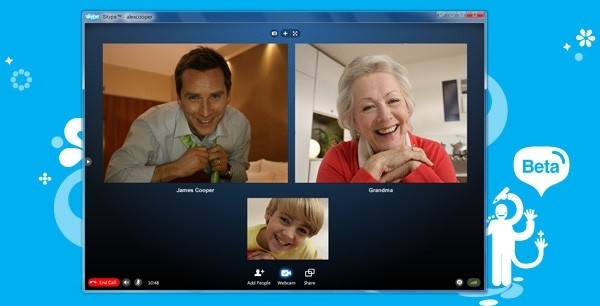 While many thought that the 5-way video calling, available in the beta version this past summer, was pretty cool, Skype decided to roll out with 10-way video calling in the full 5.0 version. The 10-way video calling is a great tool to use for connecting with multiple family members at once (say good bye to family reunions), catching up with friends, holding study sessions and working on projects with classmates, and for holding business meetings and conferences.
If connecting with 10 people via video at the same time wasn't cool enough, Skype decided to add additional features within the video calling such as automatic call recovery, which will automatically reconnect you if you are disconnected – almost like it never happened. They also added a feature that will automatically position the person currently talking into the middle and largest video window within Skype.
Some things to note regarding 10-way video calling is that it is free only for a trial version, which lasts 28 days. After that is up, you will have to pony up some cash in order to continue the feature. Also in order to use it with other people, they all must have the 5.0 version, a webcam, and a broadband connection. 10-way video calling is also in beta, which means it's a work in progress but go ahead and use it, just don't be surprised if there are minor glitches or problems.
The new Skype 5.0 is only available on the Windows platform, with no word on when the Mac and Linux updates will be available.
Head over to the Skype website to learn more, update to the 5.0 version, or create an account.