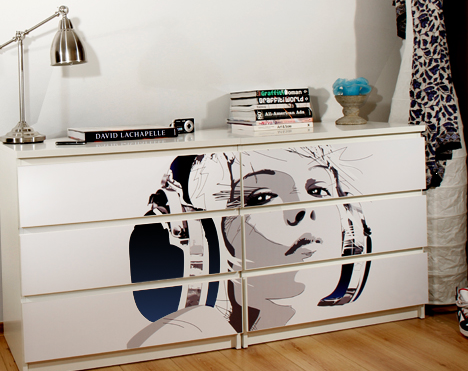 I'm a big fan of IKEA furniture.  Sure, it might not be the most durable (and certainly doesn't hold a candle to your grandparents' solid oak chifforobe), but it's typically affordable and they offer sleek, modern styles.  If you have the luxury to visit an IKEA showroom, you can easily spend hours wandering through the pre-fab household scenes.
One thing I've noticed after moving to a city with an IKEA, though, is that everybody seems to have identical furniture in their apartments.  Want to avoid blending in with your neighbors?  Check out mykea, a site that lets you purchase unique artwork that can be easily applied to your otherwise drab furniture.
To get started, select the type of furniture you have (or plan to buy).  Mykea has a fairly good selection, and if you can't find your furniture you can submit a request for them to add it.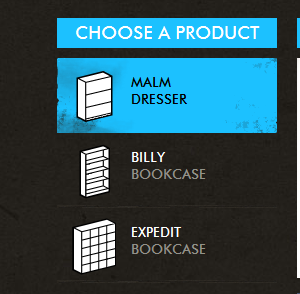 After that, select the art you'd like to place on the furniture.  You can preview how it looks on several different pieces of furniture by moving your mouse over the images.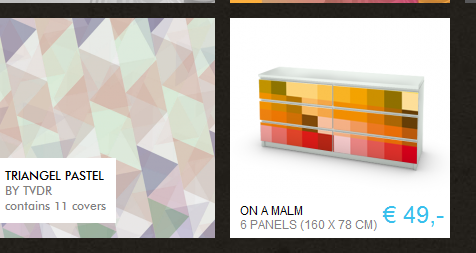 After you've found something you like, click it and you'll have the option to order it.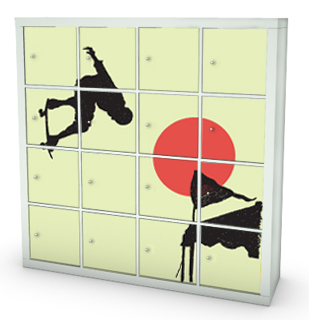 If you're an artist, mykea has a designer's kit that will allow you to create your own design (or an entire series of designs). And if you decide to purchase a design, make sure to check out their installation instructions.