Here I am in class, when I realize that the Minnesota Vikings have a bye week this week. Normally this wouldn't bother me much (I'm a Packers fan), but I happen to be lucky enough to have Adrian Pederson on my fantasy football team. So, all of a sudden the bye week is a huge deal.
But alas! I am 1 hour into a 3 hour class, and let's face it – I have no chance of remembering to change my roster when I finish class.  I could jot down a reminder in SimpleNote, or I could pull up Yahoo! Fantasy '10 for iPhone/iPod Touch (or Android) and swap him for Justin Forsette (he's about to run all over St. Louis) right on the spot.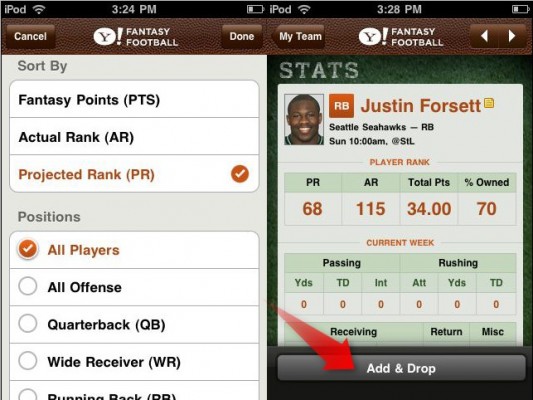 As I log in to make the covert roster swap, I see a big red "Roster Alert" button. I've never seen one of these before so I push the big red button. Turns out my kickers spot is empty (dropped Garret Heartly) so I make that switch as well.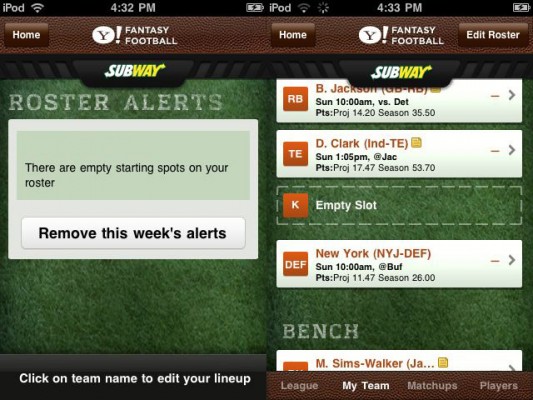 All of this was very convenient, but this wasn't why I picked up the app. The main reason I got this app was for live score updates without having to sit in front of a computer all Sunday. I've tried to do this on a few separate weekends and so far have had no luck -the app seems to work fine until the games start and then becomes incredibly slow. It has gotten better week by week, and there has been an update since my last attempt so hopefully this gets resolved soon.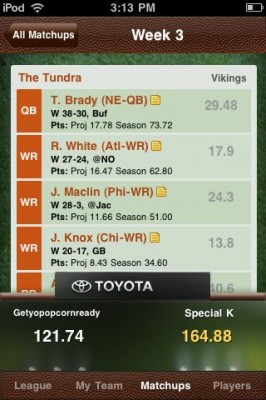 This app is fairly simple and useful. Obviously it only does you any good if you have a fantasy football league on Yahoo. It allows you to view all the match-ups going on that week. The app also allows you to read any recent news happening with your players, although it would be nice if you could get alerts for injuries and other news.
If you are in a Yahoo Fantasy League and you have an iOS or Android device, give this a look. It's good for quick (or last minute) roster changes and can help you keep tabs on how your team is doing on Sundays. If they work out the bugs, that is.