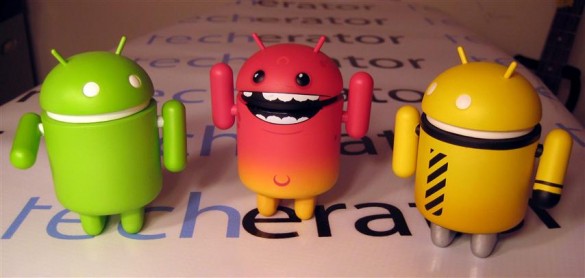 The contest is now closed, check out the results!
Check it out: we have THREE sold out, limited edition Android collectibles created by artist Andrew Bell that we can't wait to give to a few lucky readers.  Only 2,000 of these bad boys were ever made, and you can pretty much only get them on eBay nowadays – until now, that is!
So here's how this works:  The green Android collectible is up for grabs first, and after 50 contest entries we'll be adding the yellow "high voltage" Android (so spread the word!).  Two Androids, two lucky winners.  Exciting!
UPDATE: We're giving away a third "Creature" Android collectible after we reach 100 contest entries, so tell your friends!
How to Enter
Step 1:  Follow us on Twitter or Like us on Facebook.  If you're already doing that, thanks!
Step 2: Leave a comment below (make sure to use a valid account to comment, whether Twitter, Facebook, or email – this is how we'll contact the winners).
That's it!  The contest ends at the end of the day on Monday, October 11th. Winners will be announced Tuesday, October 12!
Check out more pictures below.
[nggallery id=10]
Details: 3″ tall, vinyl, movable arms and head. Comes with original packaging.