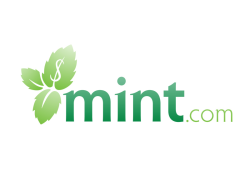 When I got my first glimpse of a "big kid job" by taking an engineering internship in 2008, I quickly realized that my strategy of "save enough money for food" wasn't going to cut it anymore.  Since I was earning significantly more than I was at my previous part-time jobs, I needed a way to track my income (and more importantly, my newfound city expenses like higher rent).
Mint.com is a free, secure way to manage your bank accounts, visualize your spending with graphs and charts, set budgets, and save money for the future.
(Note: For obvious reasons, I'll be using stock images of Mint.com account pages instead of my own in this article.  These images are identical to the ones you will see if you use the service.)
All your accounts in one place
Now that I'm out of college and working full-time, managing my accounts with Mint.com is even more important.  I can import information from my bank accounts, credit card, retirement savings accounts, and student loans.  This takes all the information that's spread across 4 or 5 websites and shows it to me on one single screen – I can't tell you how much time that saves me.
You aren't limited to business finance solutions such as bank accounts and student loans, you can add vehicles, mortgages, and real estate using nearly every popular financial institution.  Mint.com will automatically sync data from your accounts too, so you'll never be able to say "I had no idea my account was that low!" ever again.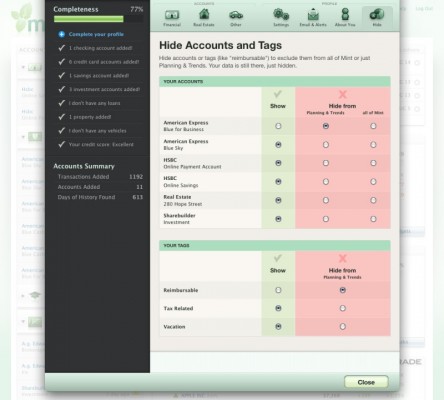 Easily create and manage budgets
Mint.com's fantastic budget system is the single most useful feature for me.  When I first considered making a budget, I was overwhelmed by trying to figure out what amounts were realistic to spend but not too high.  Mint helps you right from the start by suggesting budgets based off your spending history in every category.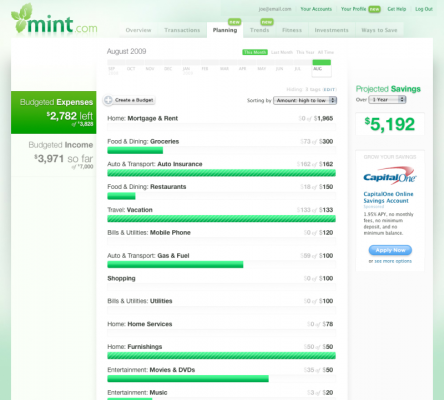 You can also compare your spending month-to-month, year-to-year, or even against the average US citizen (I've since discovered that my "electronics" spending is a bit higher than most…).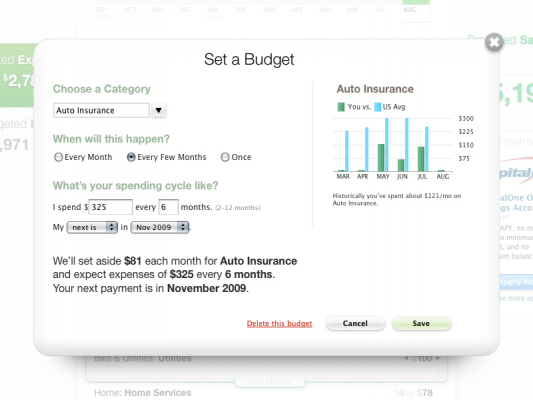 Visualize your spending
Ever have that feeling at the end of the month when you realize that you spent way more than you thought? Mint can take your entire spending history, categorize each transaction, and show you exactly how much you've spent.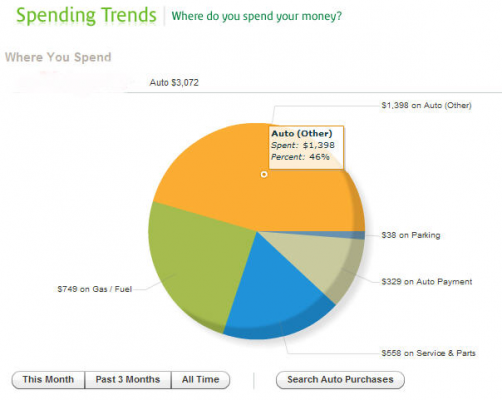 As you can imagine, it isn't possible for Mint to categorize every transaction properly.  When I buy lunch at my work cafeteria, for example, it has no idea what I'm buying there.  Mint has a very simple method to review your transactions, where you can edit categories (or even create your own).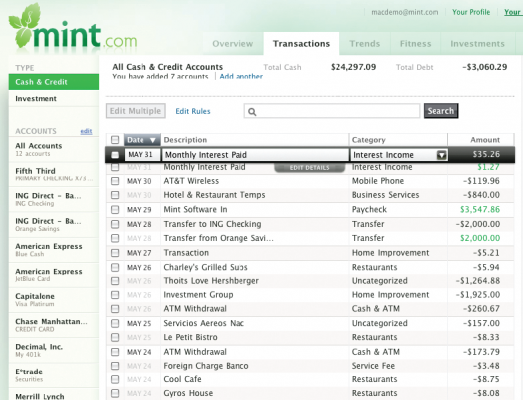 Security
When I heard about Mint.com over two years ago, I didn't get an account at first because I was concerned about giving a website access to my financial information.  I've been using Mint for two years since, and I've never had a concern about how they handle my information.
Mint accounts are anonymous and only require an email address and password for you to log in, meaning they don't require any personal information like social security numbers or PINs to be kept on file.  Mint also employs technologies from TRUSTe, VeriSign, Hackersafe, and RSA Security to ensure your digital safety.
Most importantly, Mint.com is a read-only service.  You can't transfer, withdraw, or do anything with you funds through the website – it's only for viewing and analyzing data.
For more information, check out Mint.com's security and privacy page.
Mobile apps and notifications
Mint has great applications for both the iPhone and Android, giving you access to your spending reports, budgets, and account statements on the go.  Out on the town and want to make sure you have enough money in your checking account to foot the bill? Just open up Mint and you'll have an overview of your entire financial situation.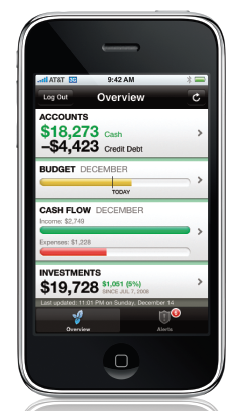 Don't have a smartphone?  Mint can send you alerts and messages via text message!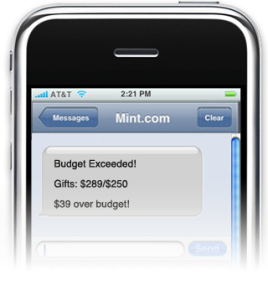 Since you can't always check in on your Mint account, you can set it to notify you about any changes to your accounts.  It can notify you of banking fees charged (great if you're prone to overdrafting or ATM charges), if you're using a certain percentage of your total credit, or if you have a payment due.  Personally, I have Mint set up to send me weekly notifications of my account statuses and alert me immediately if I exceed a budget.
Conclusion
Mint is one of the most popular ways to personally view and analyze your finances, and is owned by Intuit (the same company that makes TurboTax and Quicken software).  Even if you're great at managing your own money, you can always do better by leveraging Mint's fantastic budgeting and graph software.
Check out Mint.com and let us know what you think!