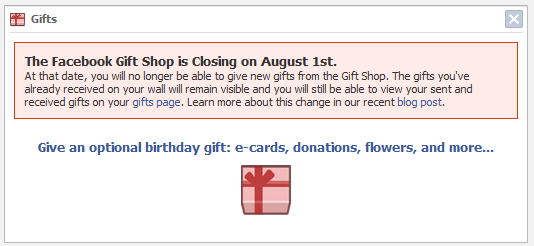 Topping the list of Facebook features I'll never miss, the Facebook team removed the Gift Shop as of August 1st.  No longer will you see the nagging option to give your friends images of cakes or puppies for their birthdays (I'm still baffled by the whole virtual item/currency thing).
Jared Morgenstern, Facebook's product manager for games and credits, explains:
The gifts you've already received on your Wall will remain visible, and you still will be able to view your sent and received gifts on your gifts page. People also can continue to use the many third-party applications on Facebook for giving and receiving gifts, such as Birthday Cards, Hallmark Social Calendar, Pieces of Flair and someecards.
Facebook says they will now be focusing their efforts on improving other products (I sincerely hope their Android app gets some much-needed attention).  And even though I'm glad to see the Gift Shop go, it will remain an important milestone in the creation of "virtual currencies" that have dominated the internet in recent years.