Root users and owners of Google's Nexus One have had access to Android 2.2 for a while now, but the update is finally starting to trickle down to everyone else with an Android phone. Official versions of Froyo are available for the Evo 4G and Motorola Droid, and Motorola's estimate for the Droid X update is early September (though we all know how accurate their estimates have been in the past).
If you've recently updated to Android 2.2, you might be wondering what cool new features Google has added. One very handy addition is a service called Chrome to Phone.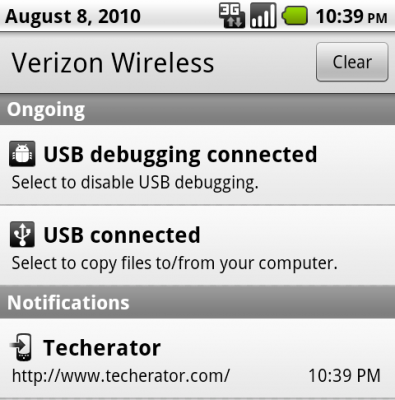 Chrome to Phone utilizes Android 2.2's Cloud to Device Messaging (C2DM) service, and allows you to push websites you're viewing on you desktop directly to your phone. It might not sound very exciting at first, but once you start using it you'll discover more and more possibilities. Look up driving directions on your desktop and easily open them directly in Google Maps on your phone. If you're playing Flash games at work and need to go to a meeting, just push the link to your phone and keep playing!
Getting started with Chrome to Phone is a pretty simple process. On the project's website, you can find links to both the Android application and the Chrome extension. The Chrome extension can be installed just by clicking on it, but getting Chrome to Phone installed on Android takes a little more work.
UPDATE: Google officially released Chrome to Phone to the Android Market today! Instead of downloading and installing it from an external source, you can now get it right on your phone. If you've already installed the external version, uninstall it and install the Market version if you want to receive future updates automatically through the Market.
If you use Dropbox, the easiest way to install a non-Market application is to download the file, put it in your Dropbox folder, and then open it using the Dropbox application for Android. If you don't use Dropbox, the application can be installed by downloading it, putting it on your phone's SD card, and then using an application such as ASTRO File Manager to install it from there. Once you get Chrome to Phone up and running you'll be able to install other non-Market apps by simply pushing the download link to your phone!
Once the application is installed, you'll need to register your device with your Google account. Open the Chrome to Phone application in Android, select the account your want to register your phone to, and click the 'Register Device' button. That's it!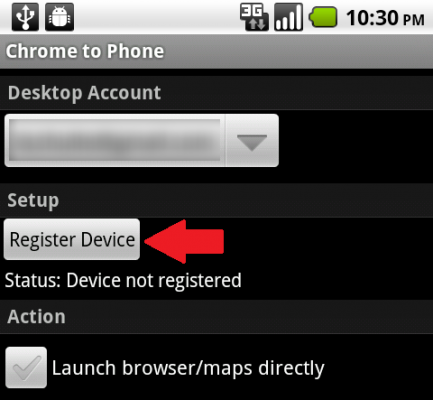 On the desktop side, you'll notice a new icon in Chrome's toolbar. Navigate to the website you want to push and click the new icon. If prompted, enter in your Google account credentials. Once that's done, you'll get a notification that the link was sent to your phone. Back on your phone, slide down the notification bar to see the link you pushed and click it to open it in the appropriate application.

Since the API for the Android C2DM service is open to all developers, an extension similar to Chrome to Phone can also be found for Firefox users. Send To Phone provides the same functionality as Chrome to Phone, plus a little extra.
Find a cool new use for Chrome to Phone, or a neat project that utilizes Android's C2DM service? We'd love to hear about it in the comments below!